PAST EVENTS GALLERY
Salute To Veterans Golf Tournament
The 5th annual Salute to Veterans Golf Classic took place on Sunday, October 15th with gorgeous conditions on the Palm Course at Angel Park Golf Club.
Twenty-five teams competed in the tournament, sponsored by Tito's Handmade Vodka, Apogee Consulting Group, Subaru Las Vegas, UFC, Wynn Resorts, AE & ES, America First Credit Union, American Legion Post 149, American Legion Post 76, Grand Canyon University, JPG Insurance, Nevada Paralyzed Veterans, and Veteran Social Club.
This year players enjoyed the chance to win a brand new Subaru EV on the hole-in-one contest, a golf ball cannon launcher, an on-course Tito's tasing and many games and contests. The round was followed by an awards banquet and silent auction, with trophies being awarded to the top two teams who both shot a 51.
Thanks to all of the amazing players, community sponsors, volunteers and staff who made the event possible, we raised a record $54,000 to support local veterans. View the full photo gallery HERE.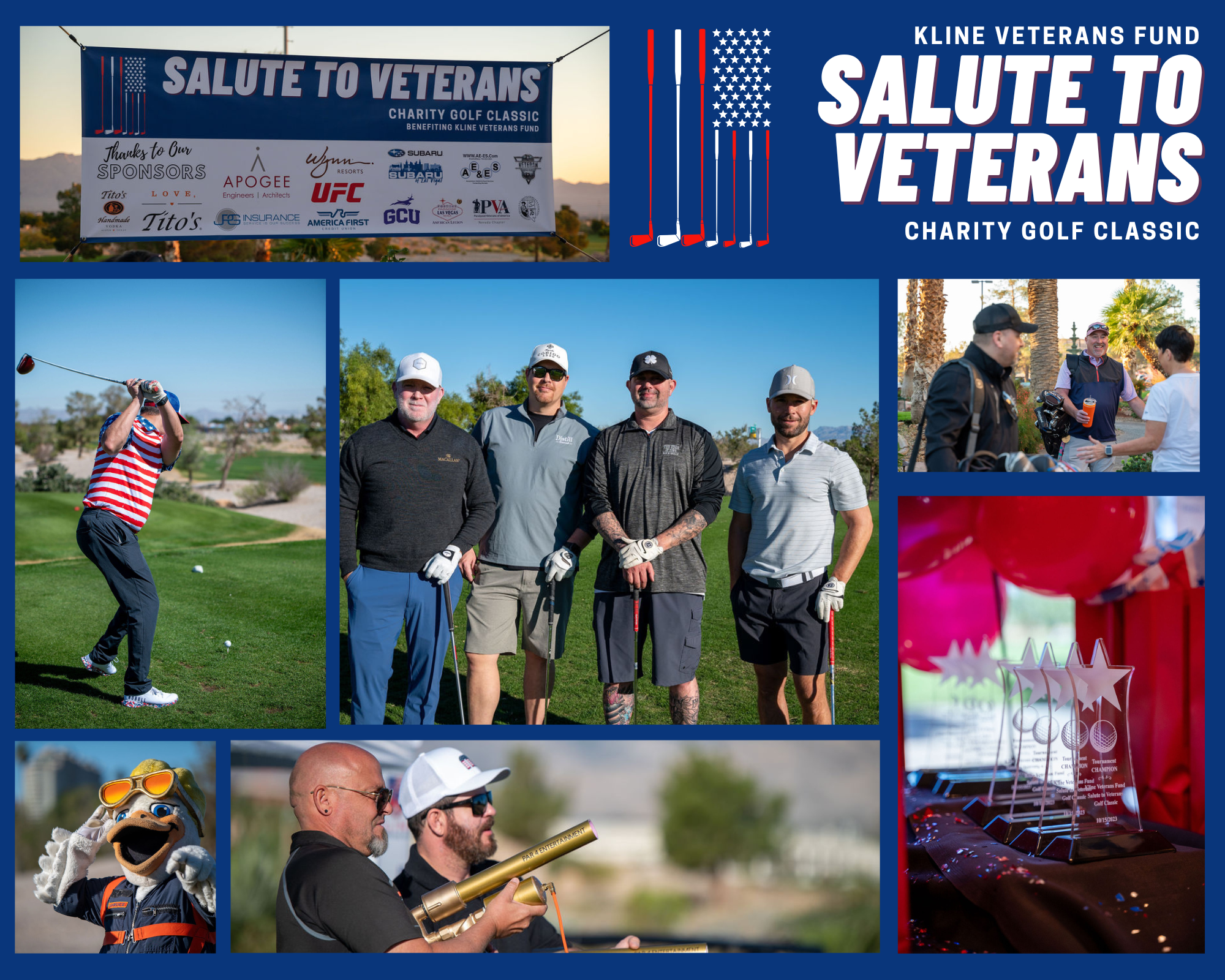 Essential Items Giveaway
On September 19, Kline Veterans Fund hosted an essential items giveaway as part of the United Way of Southern Nevada annual Day of Caring. Over 1,500 essential items from clothing to toiletries to food cards were distributed free to local veterans and active duty military personnel. This year's giveaway was held on campus at NV Energy.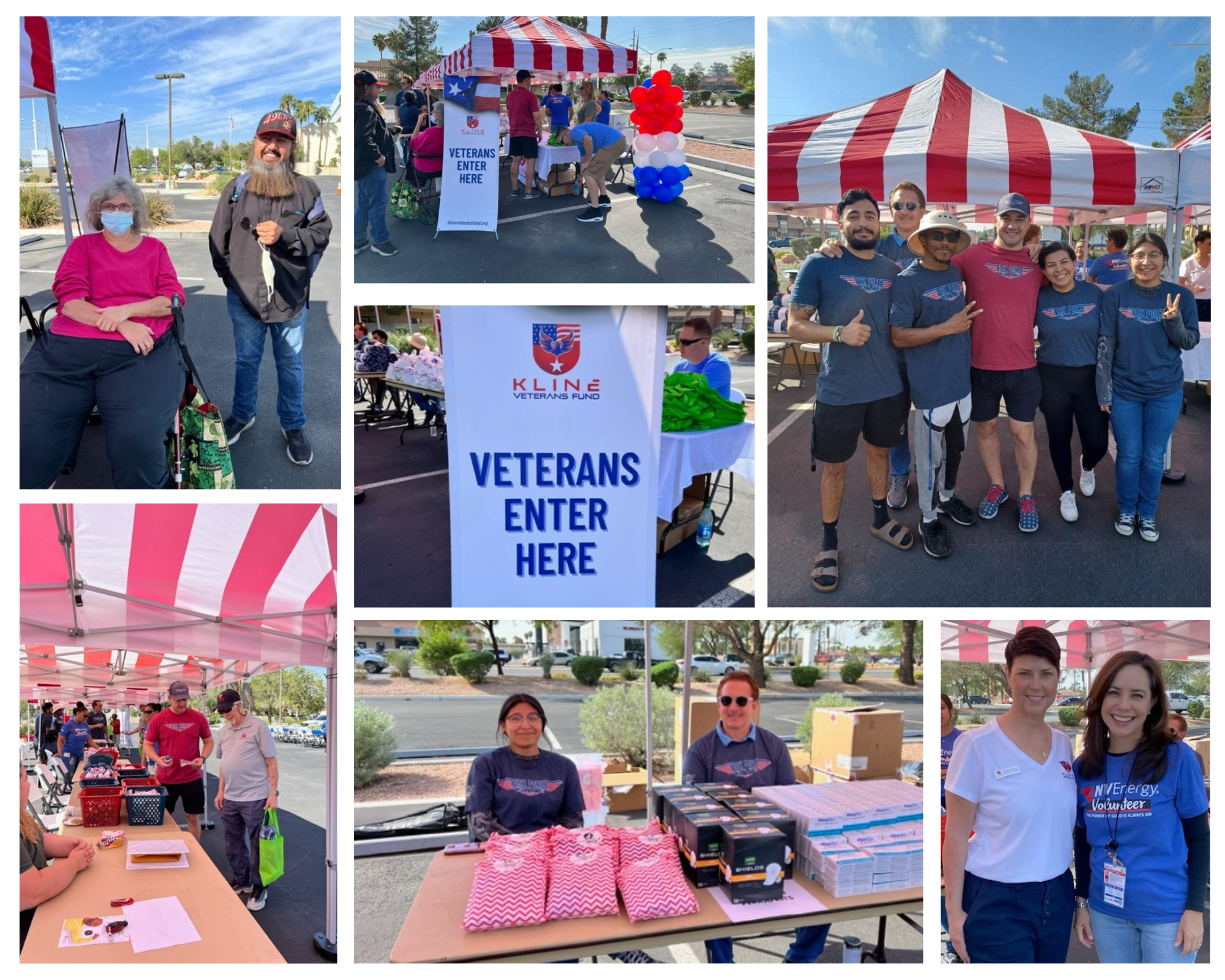 Stars & Strikes Bowling Tournament
Our annual Stars & Strikes Bowling Tournament was a roaring success raising over $30,000 for Kline Veterans Fund. These crucial dollars were immediately deployed to local veterans in need, and we could not have done it without our sponsors and participants who gathered at the Suncoast Bowling Center on Sunday, July 3 to celebrate Independence Day by supporting our veterans.
Special thanks to our sponsors: Engelstad Foundation, JPG Insurance, Veteran Benefits Guide, Boyd Gaming, Channel 3 News, AE & ES, Compassion Care Hospice, Guy Fieri Foundation, Big Horn Law, Bank of Nevada, Paw Spa Pet Salon & Boutique and the Veterans Social Club.
Our prizes were provided by Vegas Golden Knights Foundation, Las Vegas Aviators, Las Vegas Lights, Amazon and Big Dog's Brewing Co.
Hats off to our tournament winners – you bowled us over!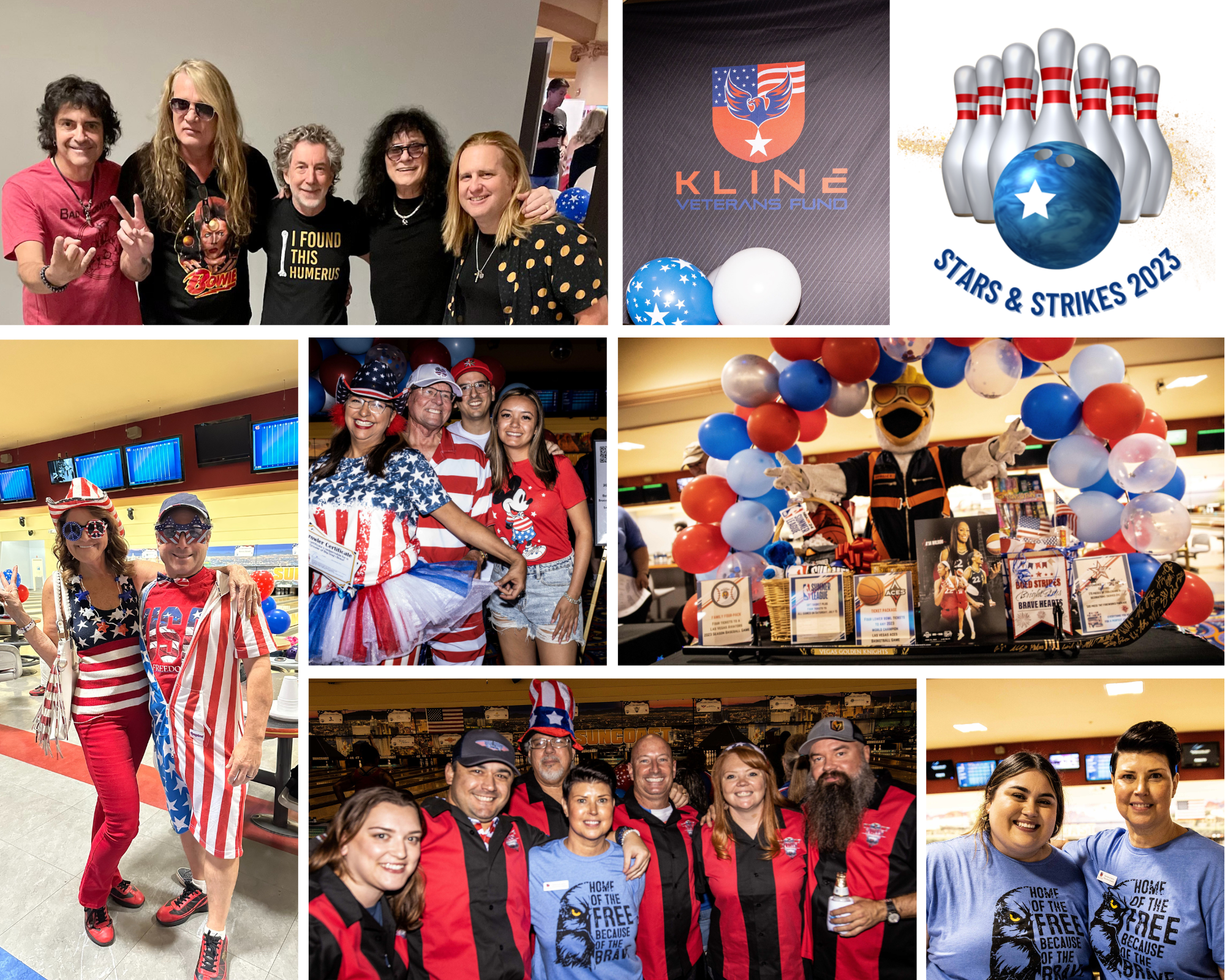 Skye Canyon Fit Fest
Skye Canyon held its annual Fit Fest & 5K on March 4 to raise money for KVF. It was a fantastic success, raising $16,000. Whether running, jogging, walking or strolling, participants of all levels joined together to raise necessary funds for homeless and at-risk veterans in the Las Vegas community. Following 5K/8K race and the one-mile fun run, we powered down with Sound Off Yoga and Meditation activities and refueled with bites from local food trucks.
We look forward to seeing you next year!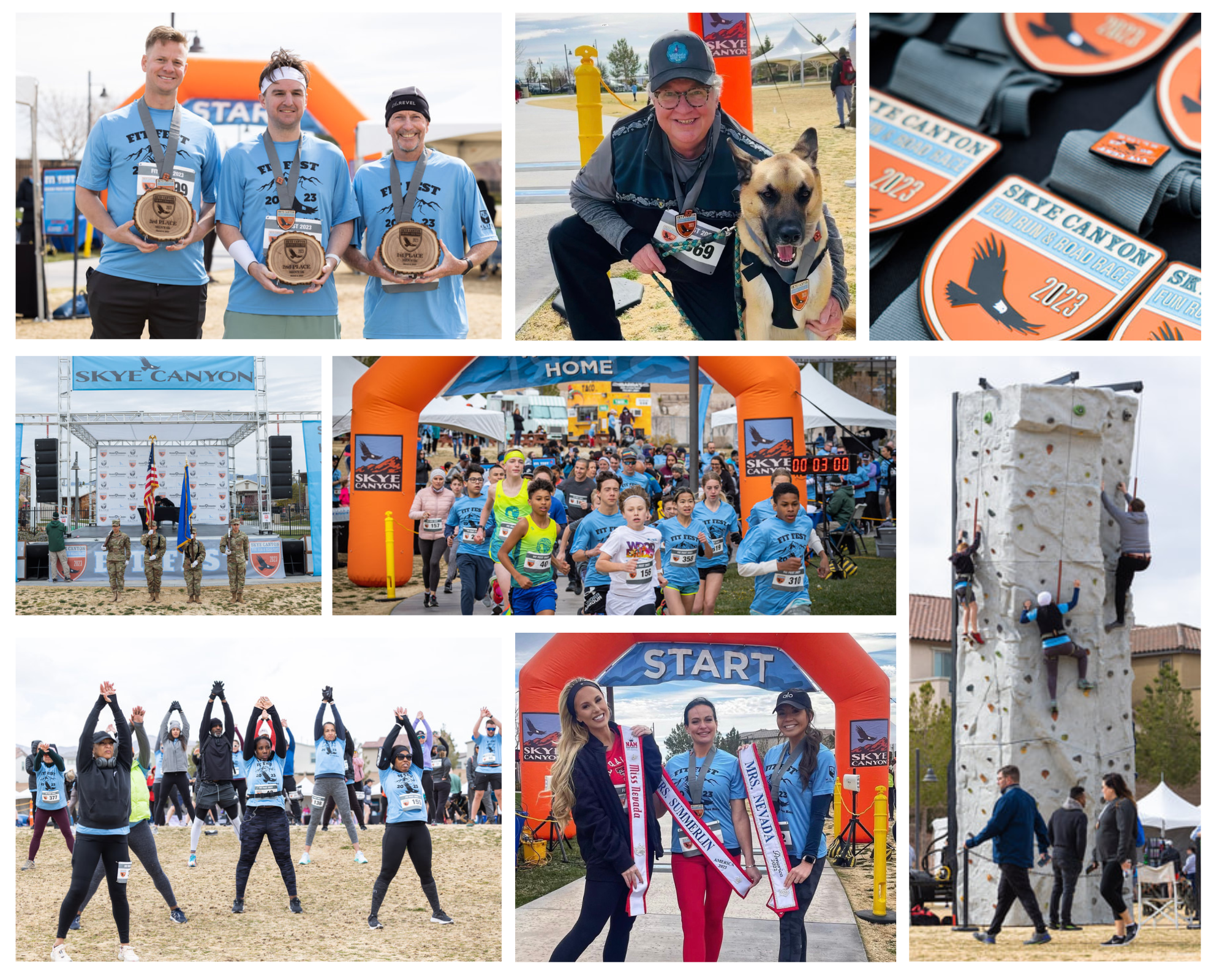 Salute To Veterans Golf Tournament
The 4th annual Salute to Veterans golf tournament was once again sold out as players braved windy conditions on the Mountain Course at Angel Park Golf Club.
This year saw many new elements added to the tournament including a $10,000 hole in one contest, a golf ball cannon launcher, a pro long driver, and hockey putt challenge. The round was followed by an awards banquet and silent auction, with prizes being awarded to the top two teams and contest hole winners. The last place team got....golf lessons.
Thanks to all of the amazing players, community sponsors, volunteers and staff who made the event possible, we raised a record $52,000 to support local veterans.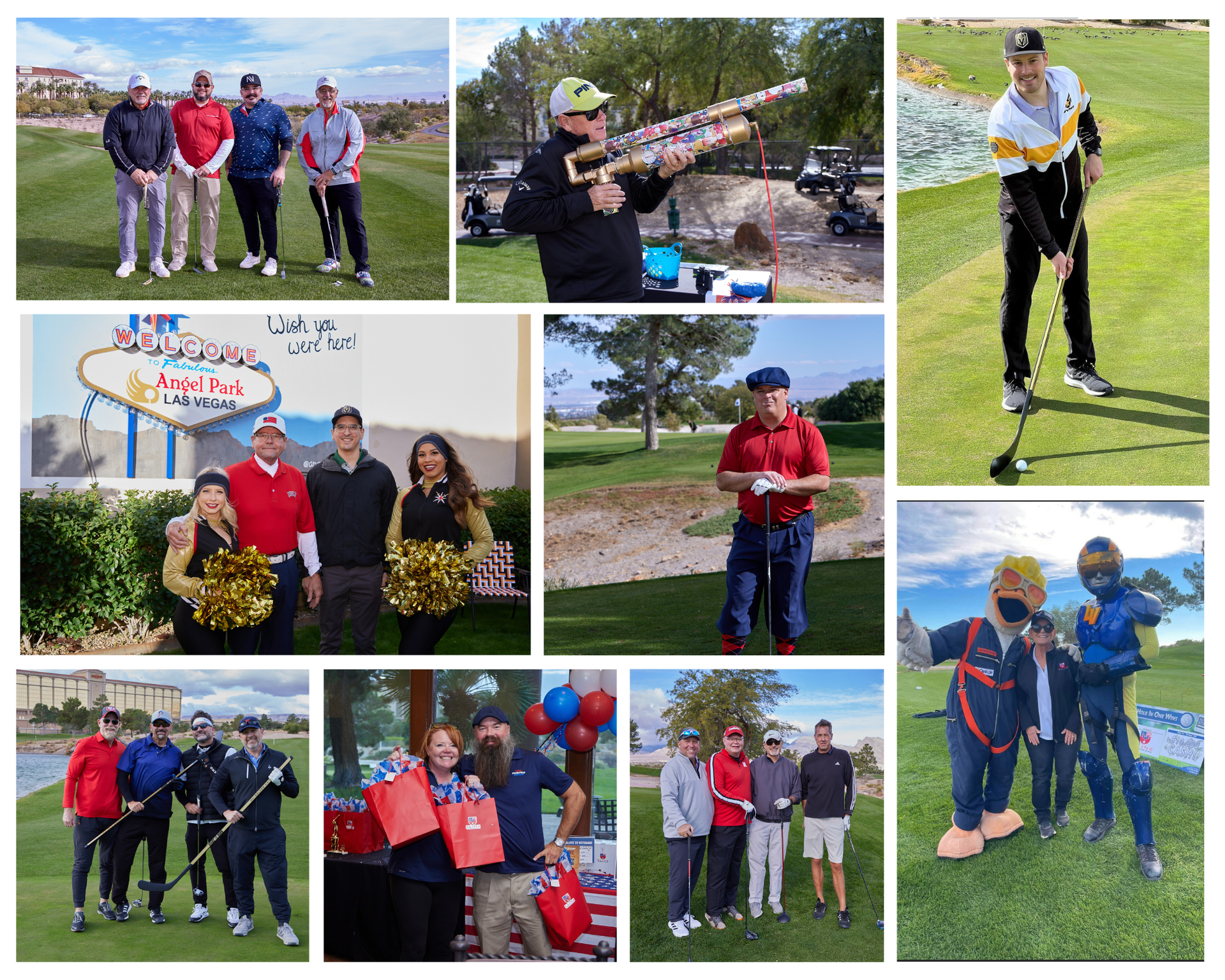 Veterans Essential Item Giveaway
On September 23, 2022, Kline Veterans Fund participated in our local United Way Day of Caring to distribute 1,500 essential items from new shoes to kitchen supplies to over 100 veterans.
A representative of a local veterans group had this to say: "On behalf of the veterans we serve, I wanted to say Thank You. We brought our clients to your giveaway event today. Everyone was so happy and grateful for the items they received. They were smiling from ear to ear."
Stars & Strikes Bowling Tournament
The inaugural Stars & Strikes charity bowling tournament took place on July 3rd where together with our sponsors and players, we raised an incredible $18,000 to house vulnerable veterans across the valley.
A sold out field of over 100 bowlers gathered together at the Suncoast Bowling Center for an afternoon of patriotic fun honoring our veterans and celebrating Independence Day.
24 teams competed to win the title of tournament champion. In the end, it was "The Brave Brigade" who took 1st place, followed by "2 Legit to Split" in 2nd place.
"The Star Spangled Strikers" took home the prize for best team name, while "Muttley Crew" was crowned most patriotic costume.
We were thrilled to have Las Vegas Aviators mascot Spruce join in the fun.
Congratulations to all of these winners plus the lucky winners of the raffle prizes.
We are so grateful to all of our event sponsors and attendees for supporting our mission to provide a safety net for local veterans in crisis.
Add in a whole lot of gratitude for our staff and volunteers and the Suncoast team for putting on an amazing event. See you next year!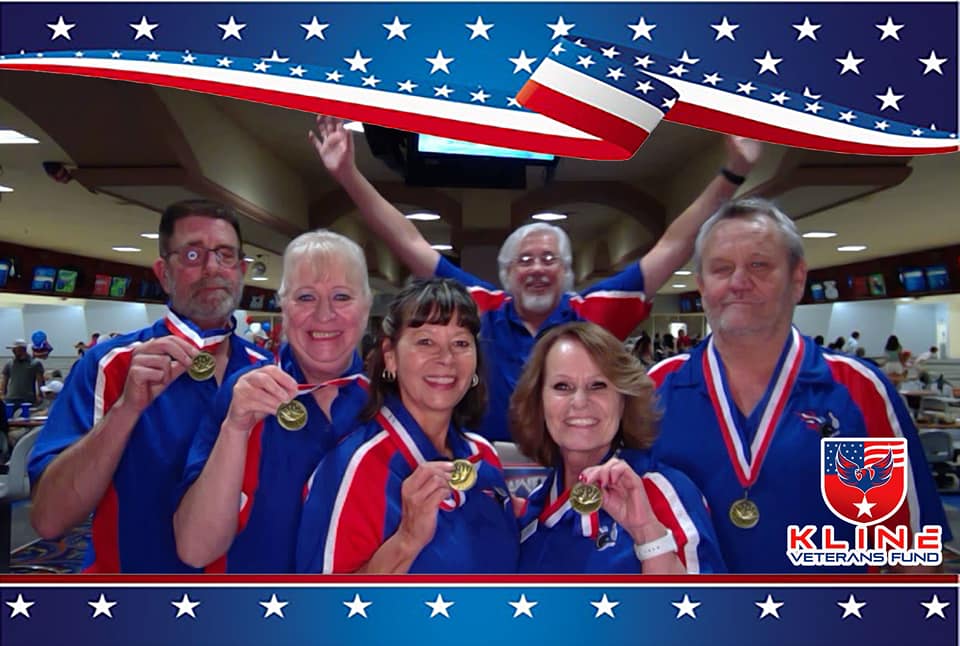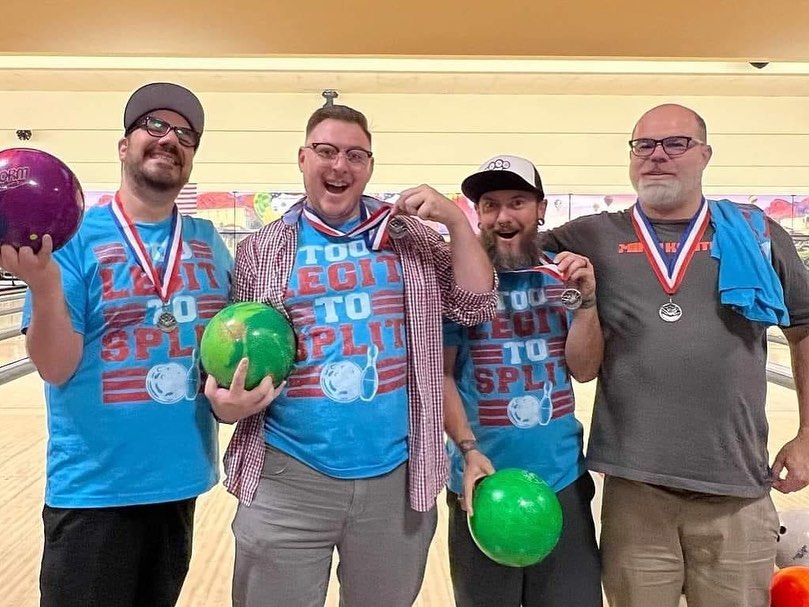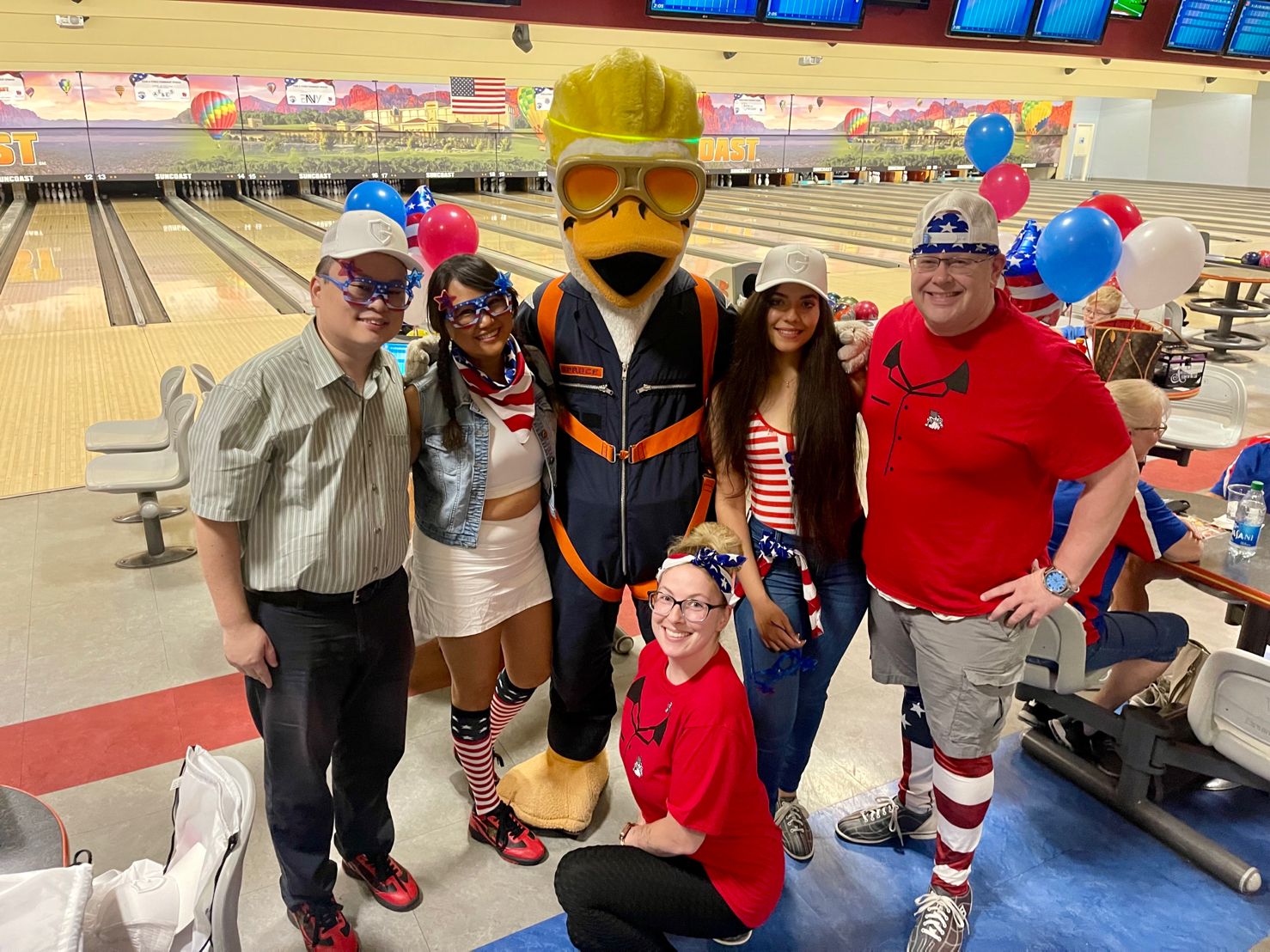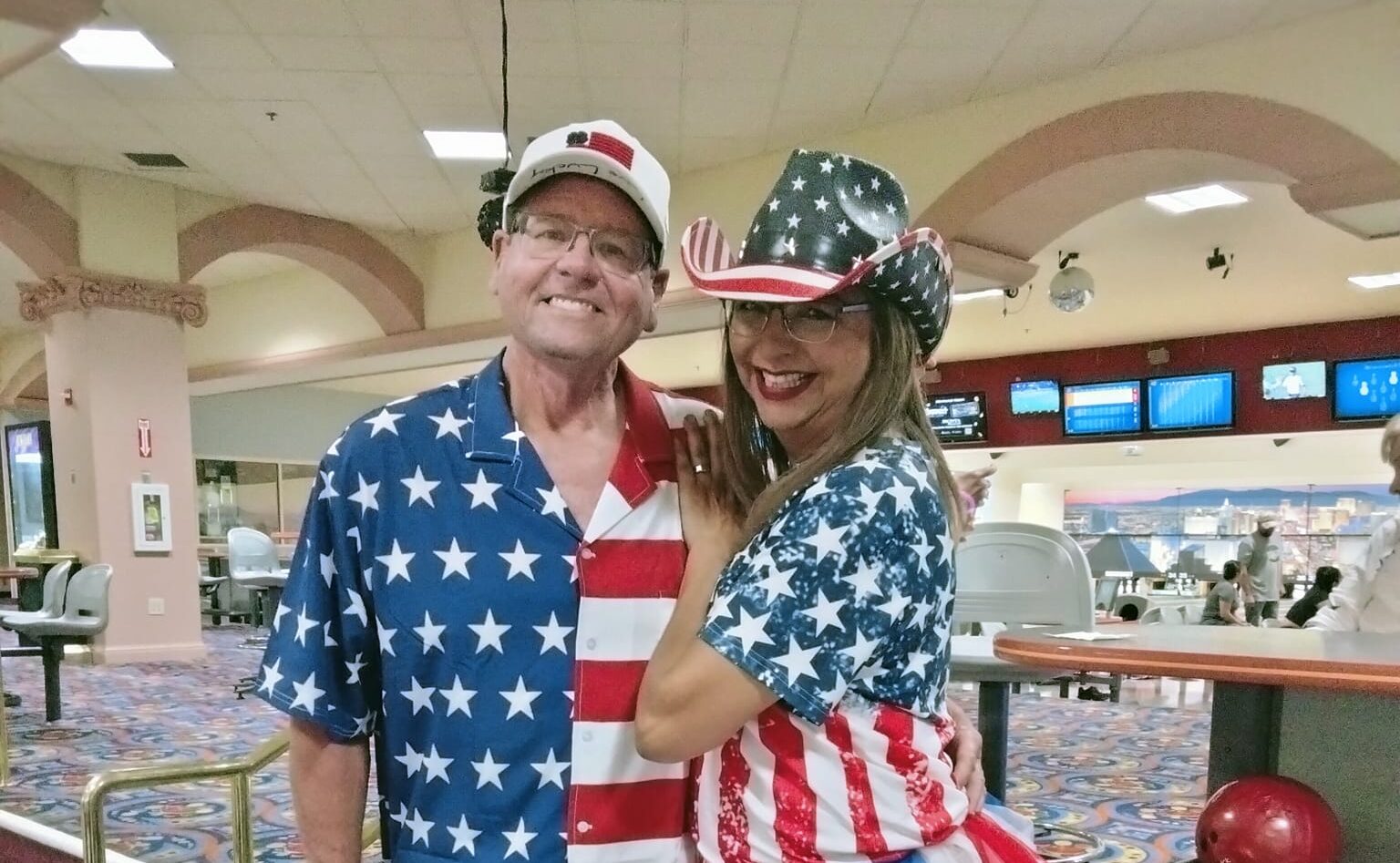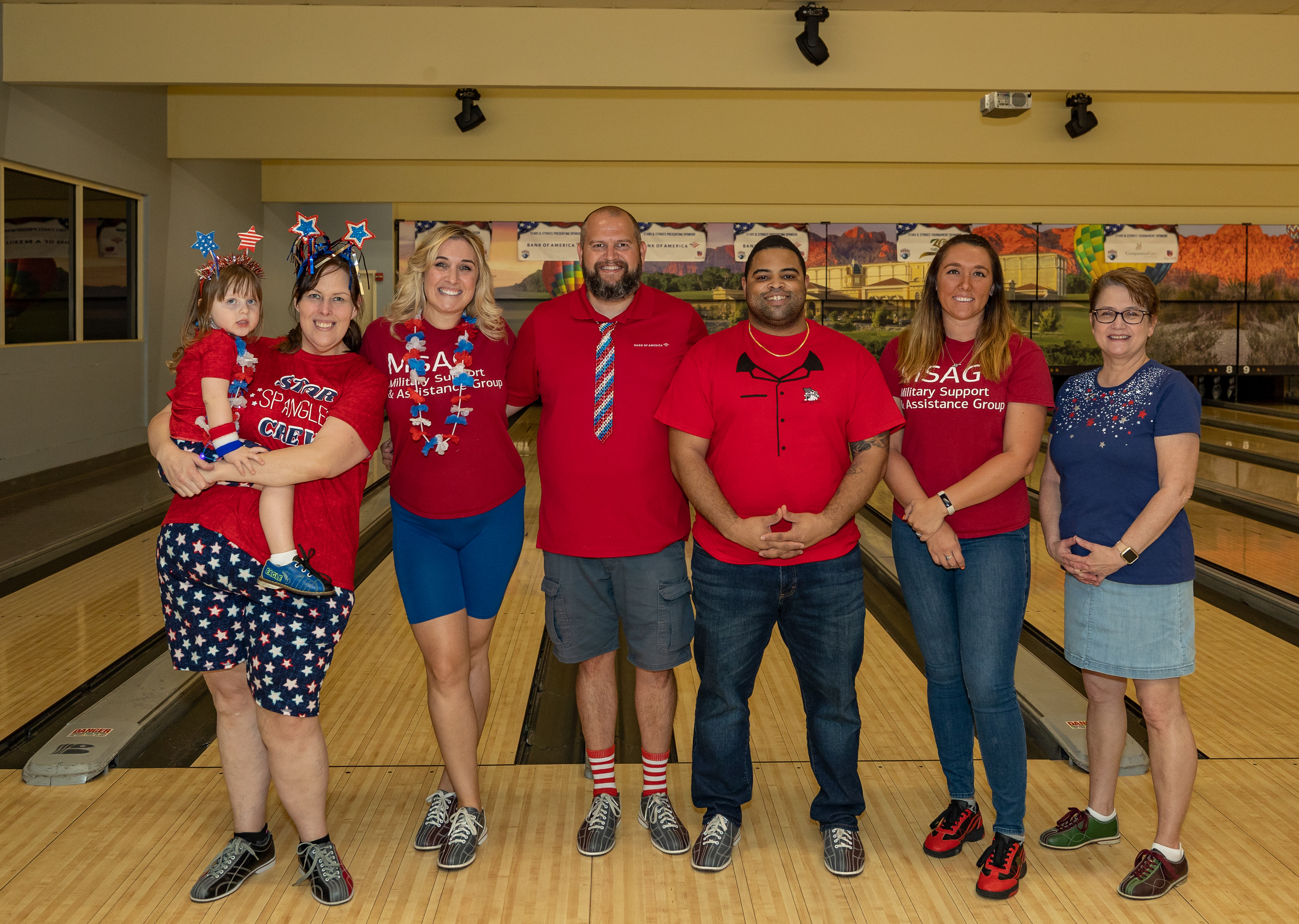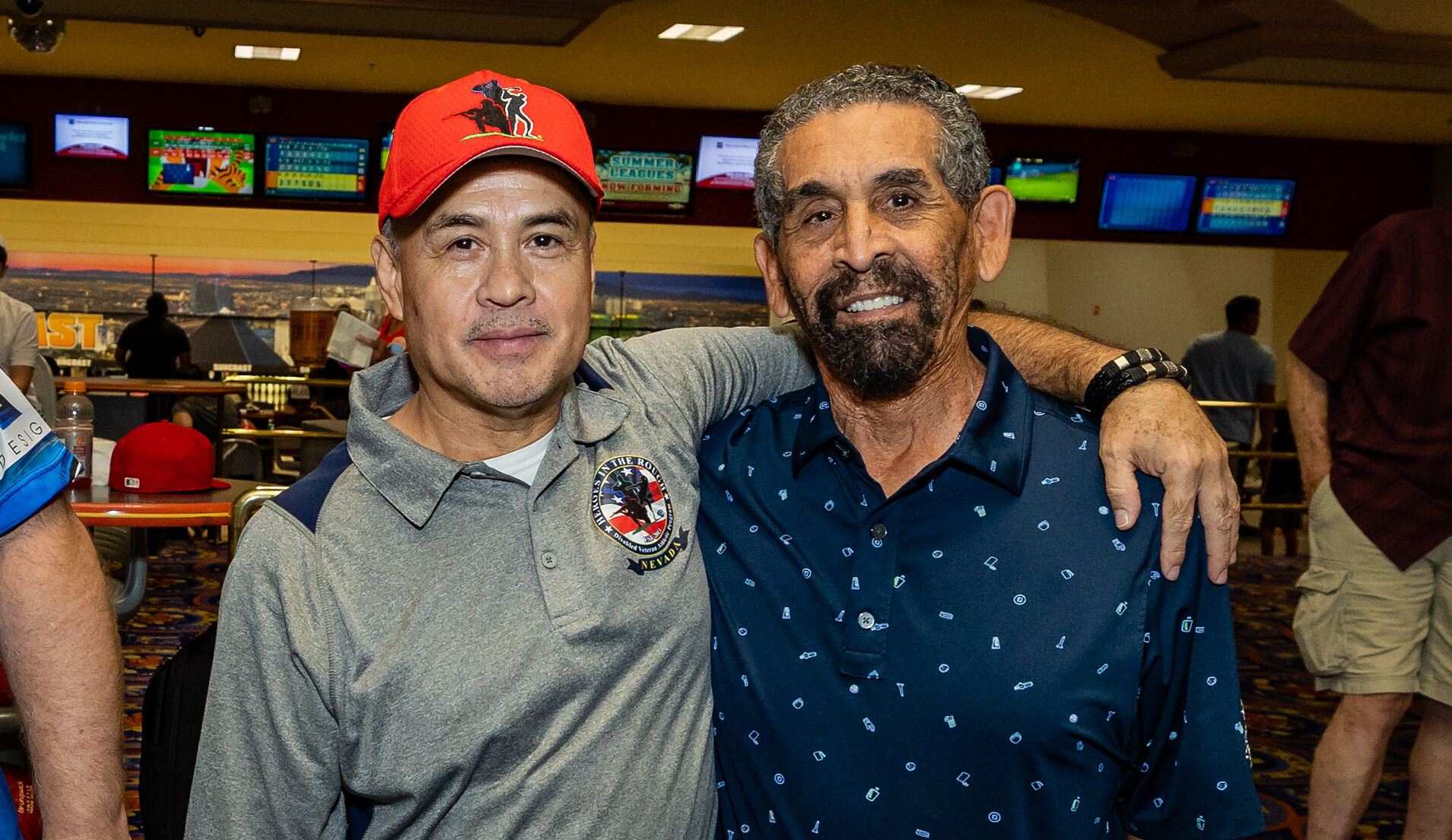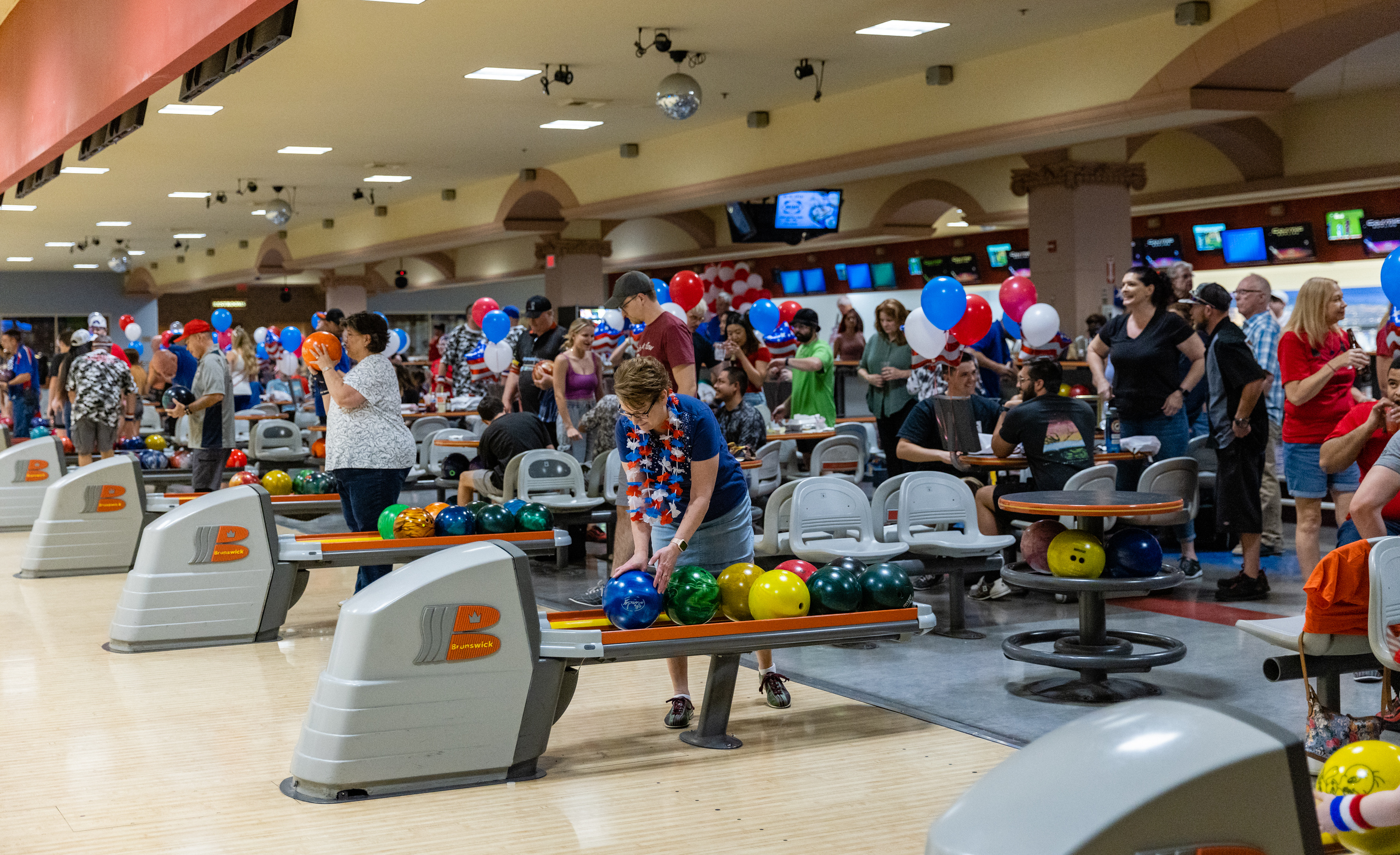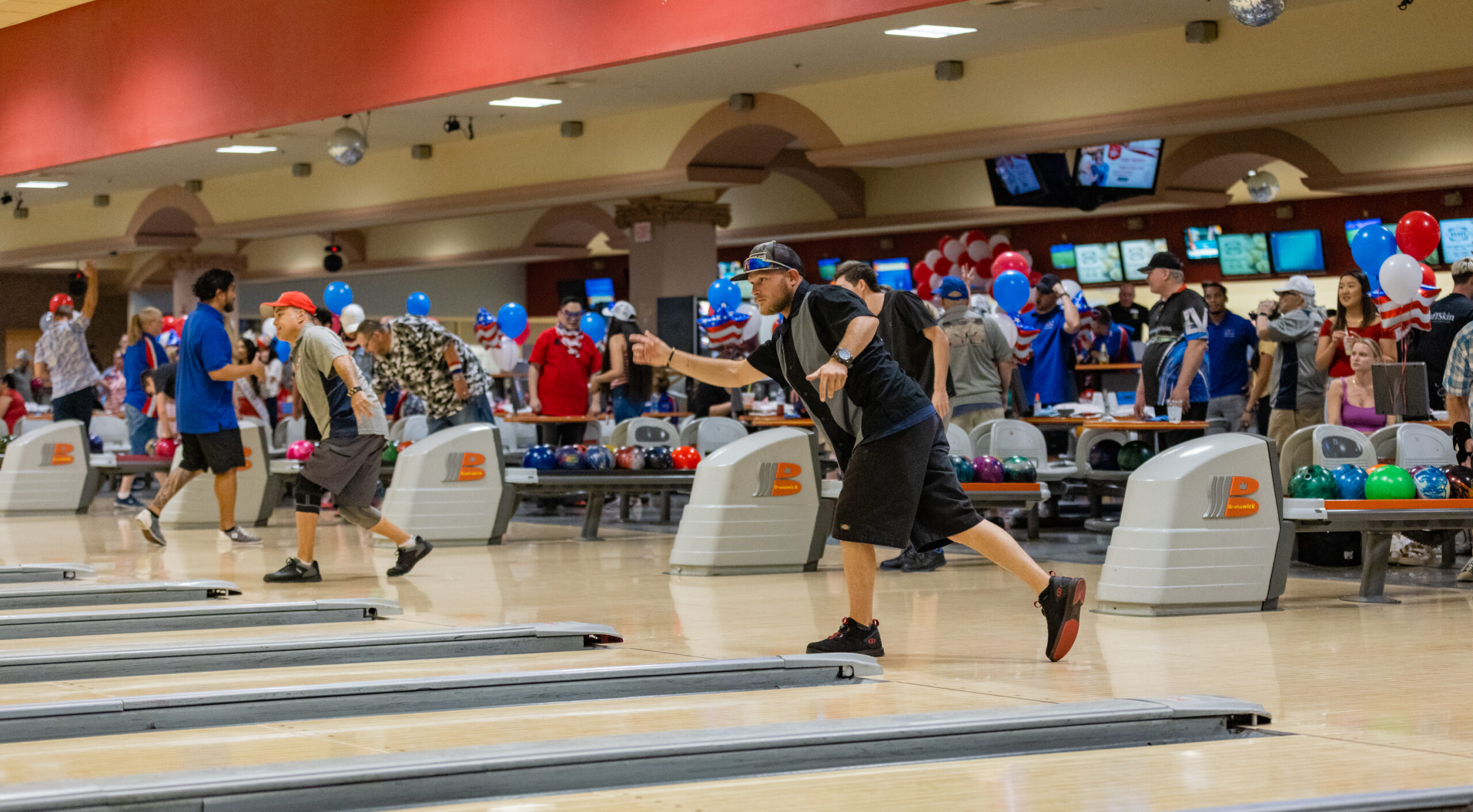 Skye Canyon FitFest
It was a cold and windy day this year for the third annual Skye Canyon Fit Fest but the weather was no match for a dedicated field of 450 runners and 2,000 attendees who came out to support the event, which raised a record $16,000 for KVF programs!presentation of
Veterans were honored with a presentation of colors by the UNLV Air Force ROTC, Detachment 004 Honor Guard and a performance of our national anthem by rock icon Paul Shortino.
Congratulations to all of the 2022 winners. Our sincere thanks go out to every participant, vendor, sponsor and especially to the Olympia Companies Charitable Foundation for their commitment to supporting the veteran community.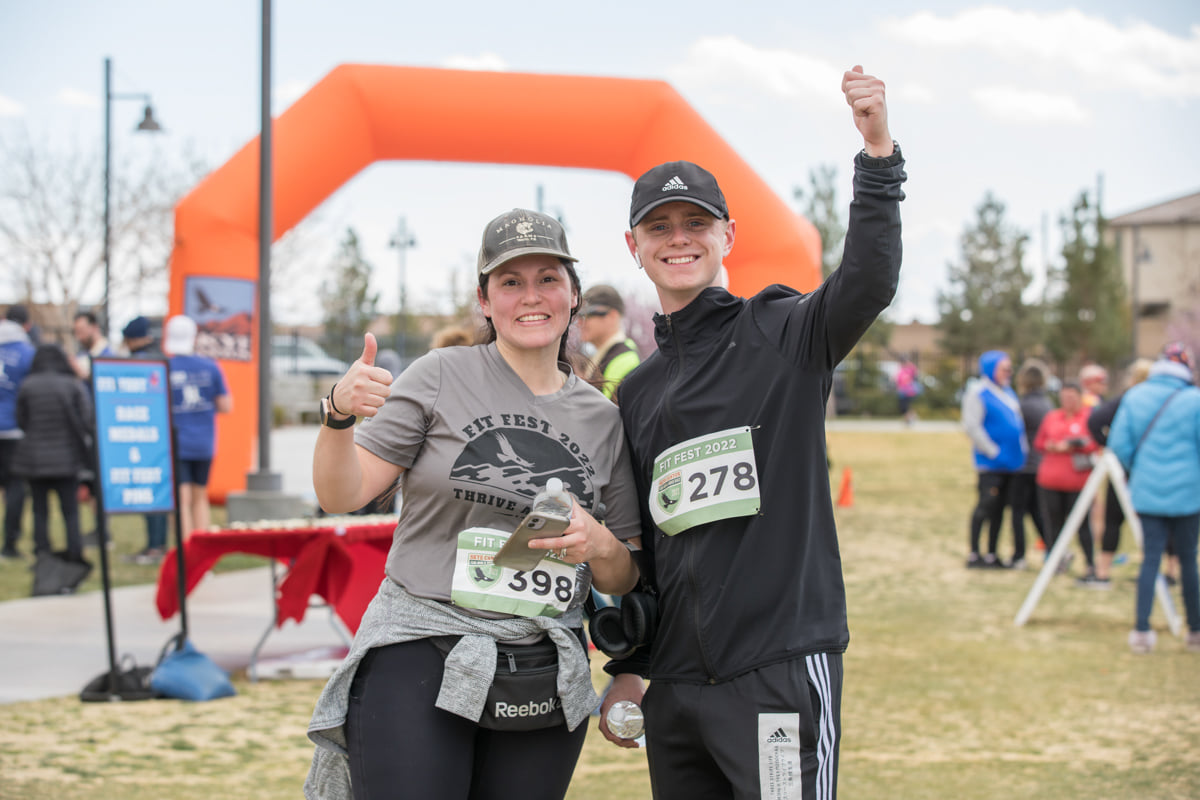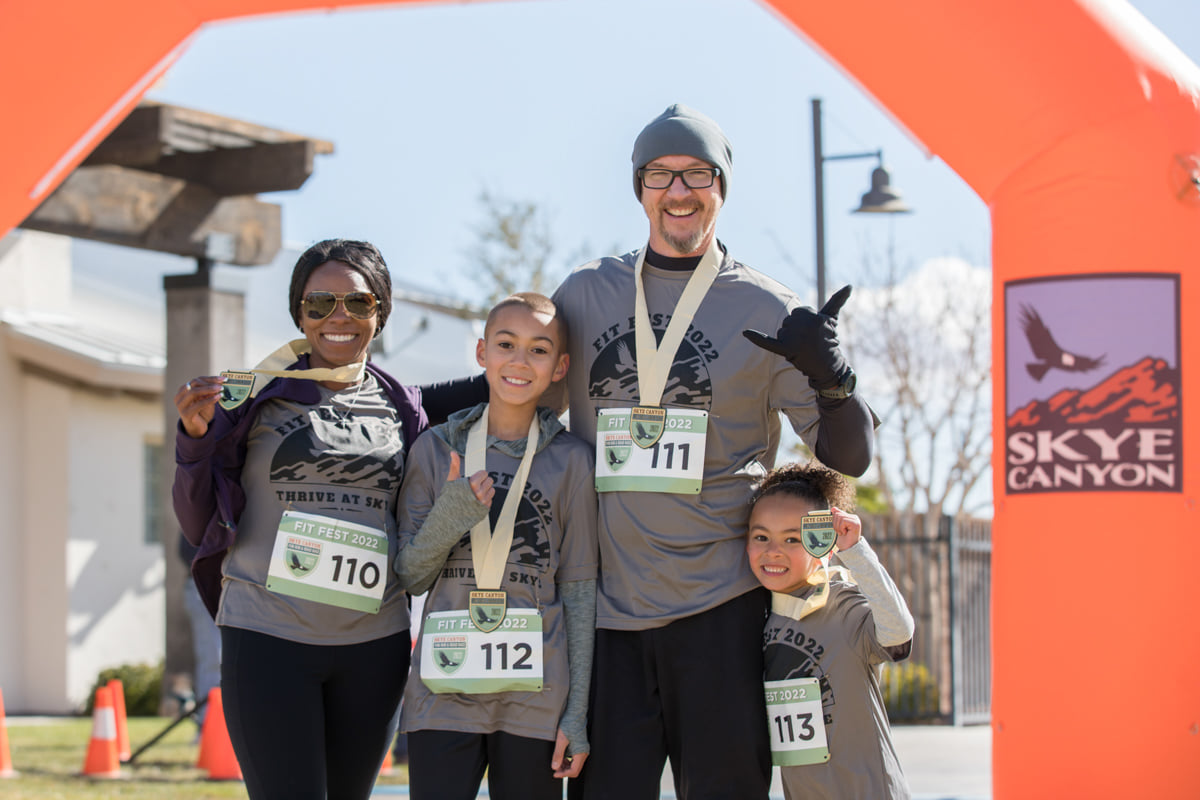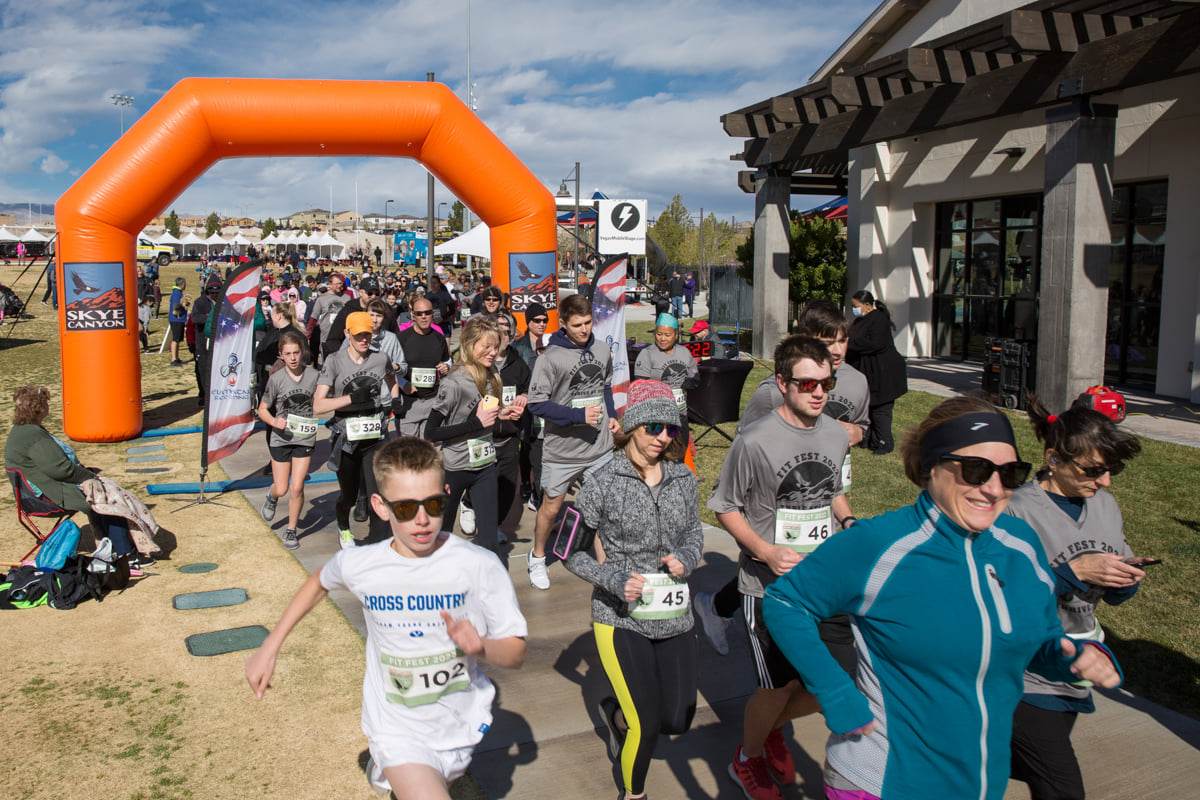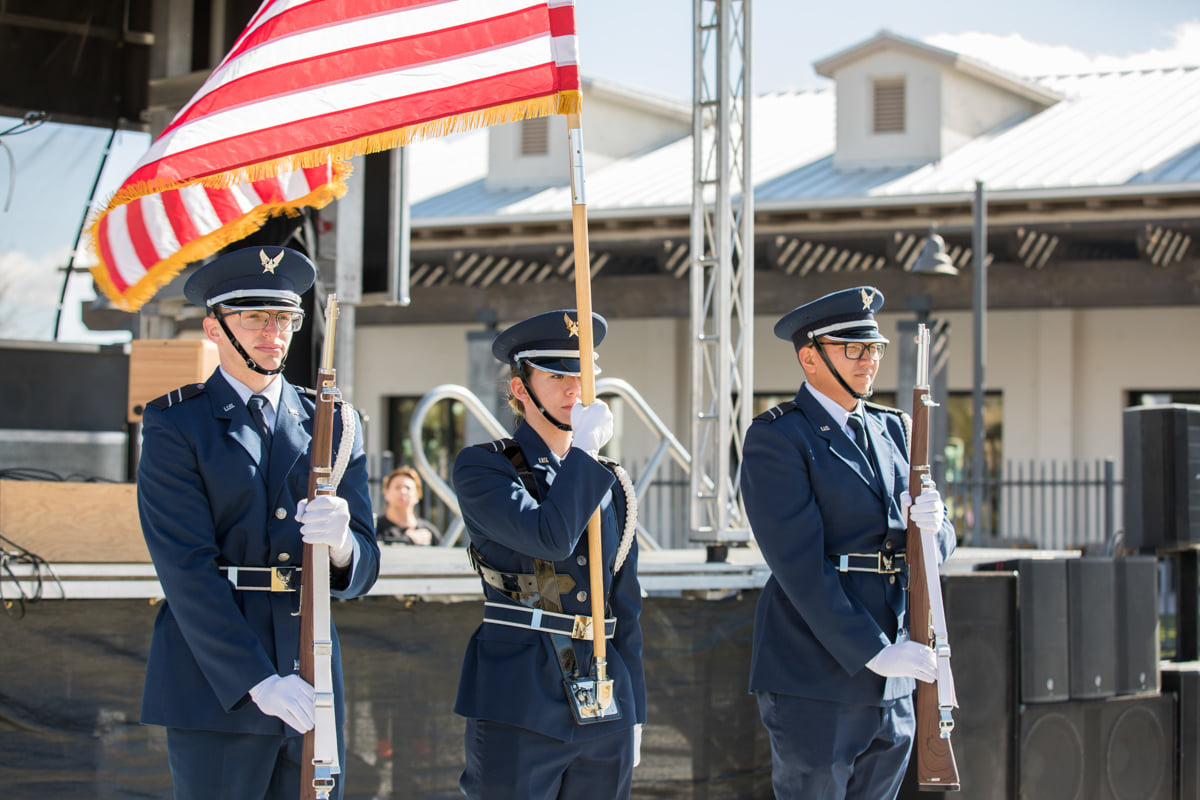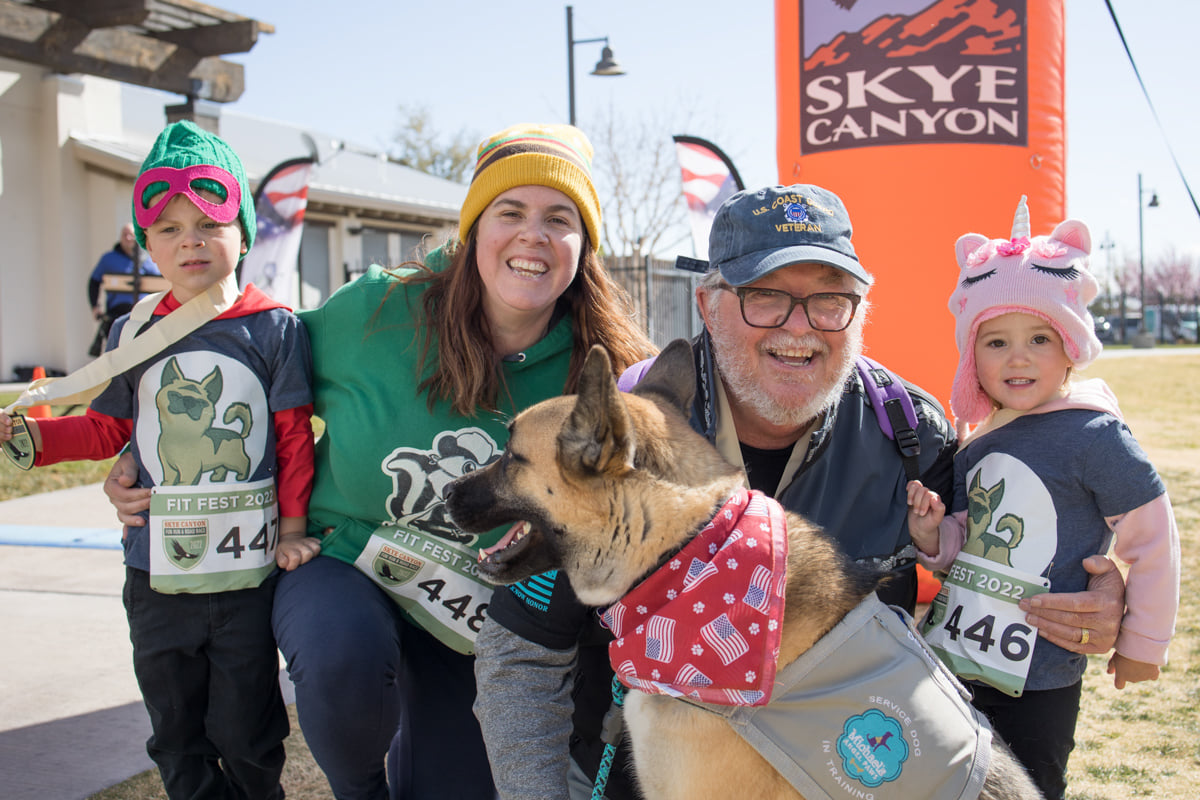 Salute to Veterans Charity Golf Tournament
What an awesome day honoring Veterans at our sold out charity golf tournament!
Many thanks to our 120 players, our incredible sponsors, all those who donated items to our silent auction and especially to our amazing volunteers including

Que Images

who captured these wonderful photos.
Together we raised over $47,000 to provide emergency housing assistance to Veteran families in need.

Each and every person and partner's support is invaluable and we can't wait to see you again next year!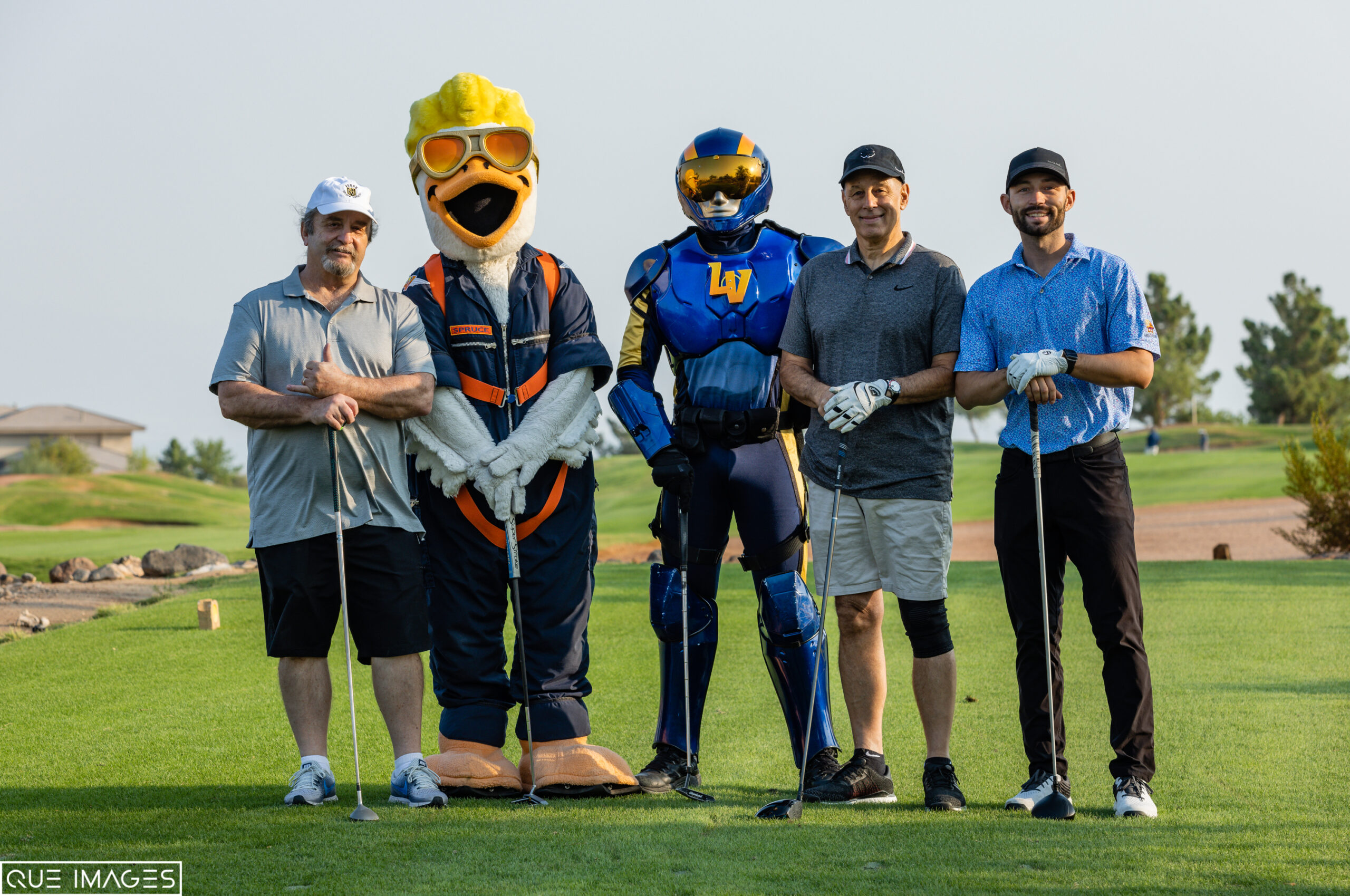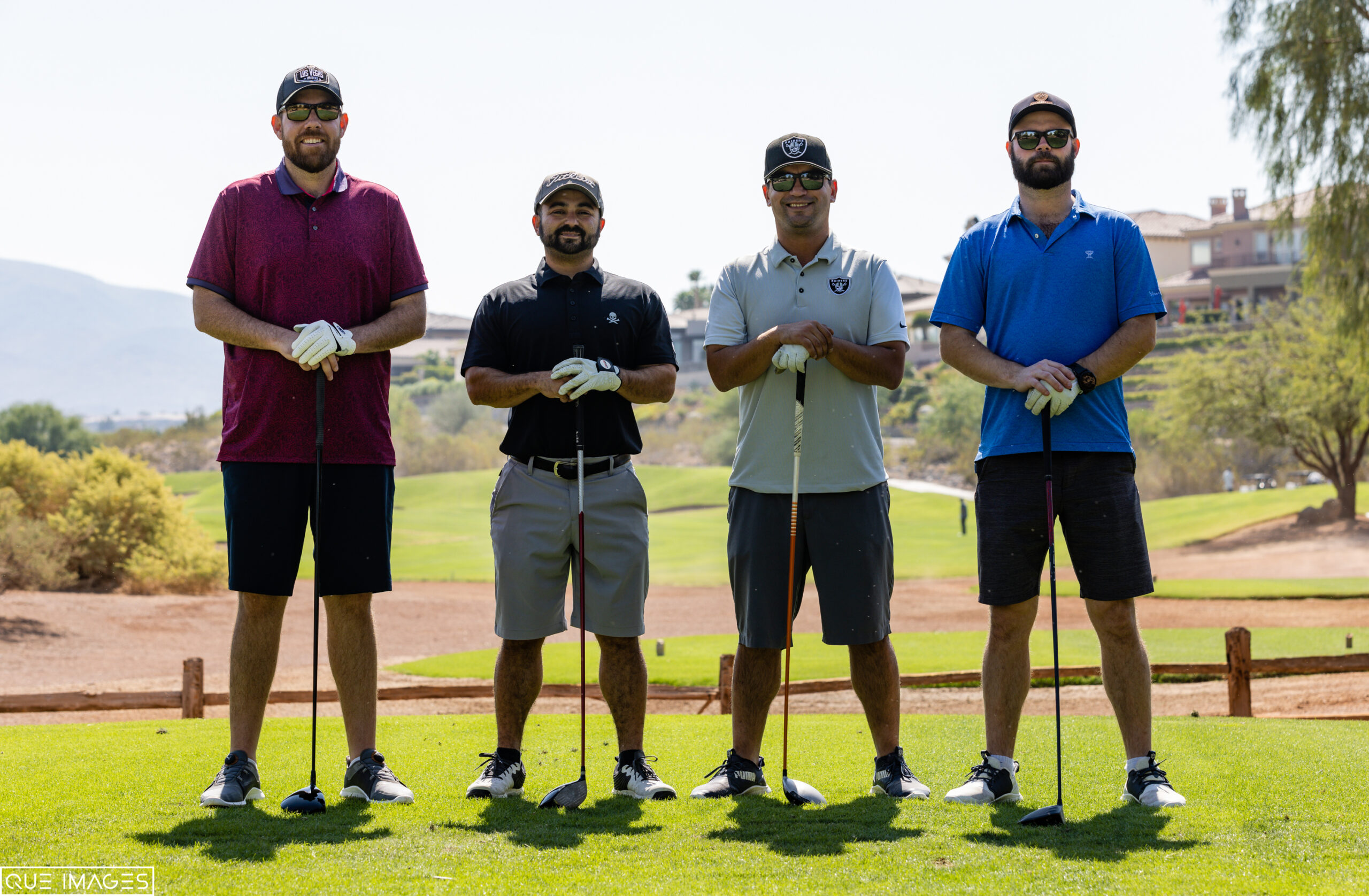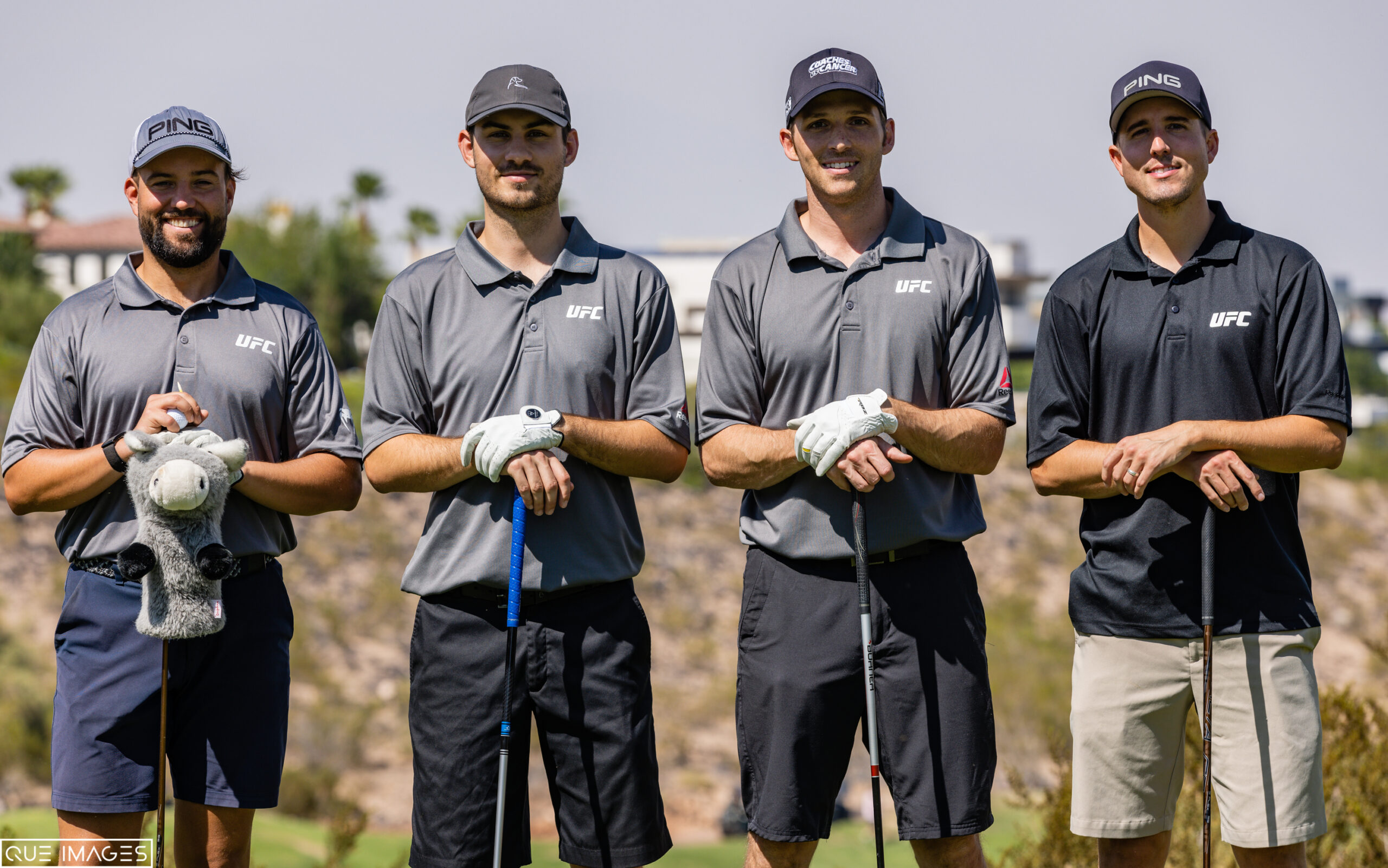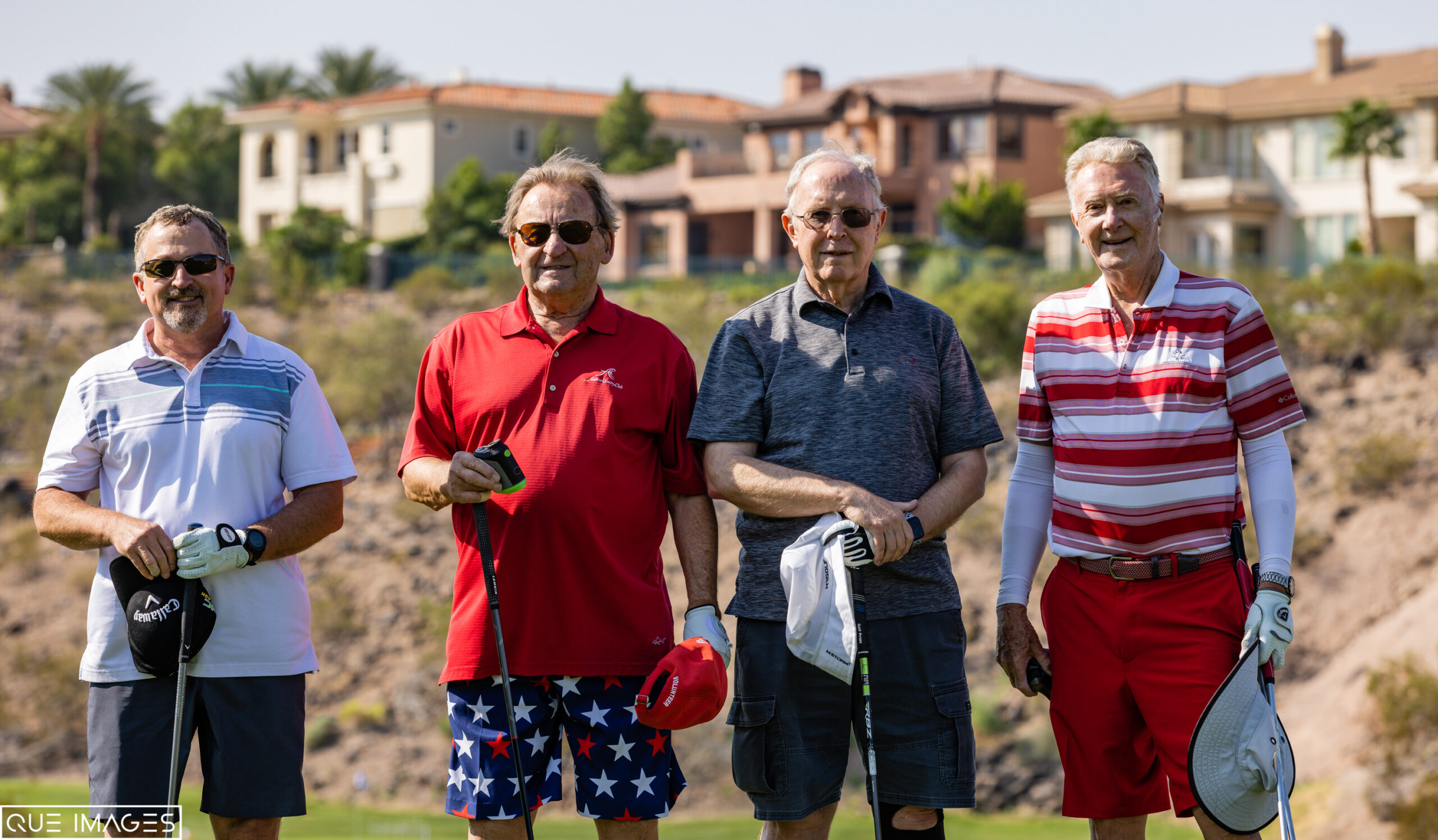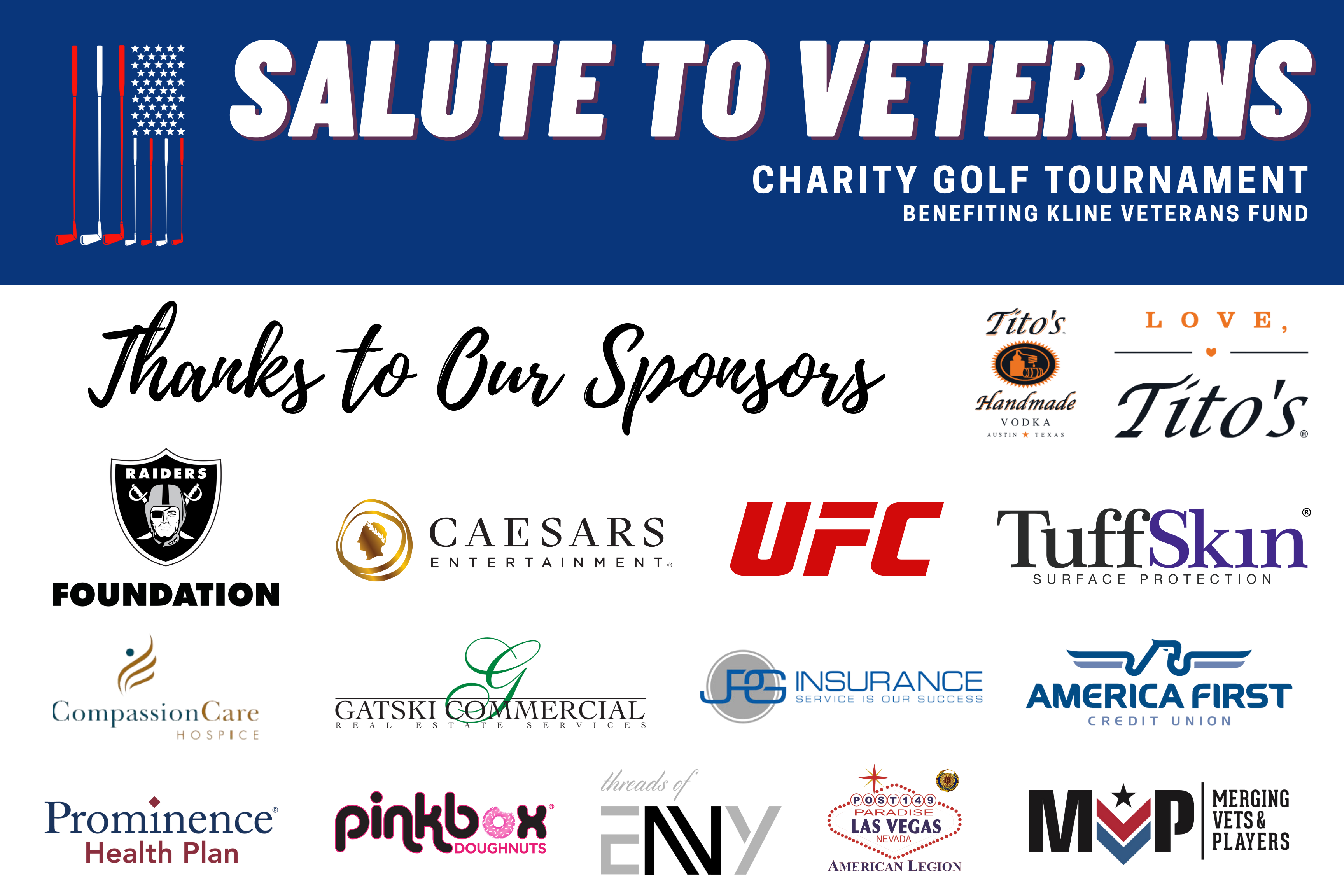 Memorial Day Car Parade at Skye Canyon
There were old cars, new cars, sports cars, and family cars, each decorated in red, white, and blue for the second annual Memorial Day Patriotic Car Parade. Nearly 50 vehicles and hundreds of families were on hand to celebrate and honor those who died while serving in the US military.
Under beautiful and sunny skies, Skye Canyon residents gathered at Skye Canyon Park to safely spend time together outdoors while showing off their patriotic and community pride. A $5 donation secured a spot in the neighborhood parade. All vehicle parade registration fees were donated to Kline Veterans Fund so they can continue their impactful work providing financial assistance and other support to homeless, at-risk, and indigent veterans and their families in Southern Nevada.
The day began with the UNLV Air Force ROTC Honor Guard presenting the colors and then a rousing rendition of the national anthem was performed by Paul Shortino from the bands Rough Cutt and Quiet Riot.
The parade was led by a 40-foot themed float featuring representatives from Kline Veterans Fund including their honorary mascot dog, Cooper. One by one the vehicles slowly made their way on a three-mile route throughout the Skye Canyon neighborhoods while families assembled outside to wave and cheer as they drove past. Participants in the parade received a special commemorative Skye Canyon event pin to add to their growing collection.
Following the parade,  families spent time at Skye Canyon Park and enjoyed music, food trucks, giveaways and more.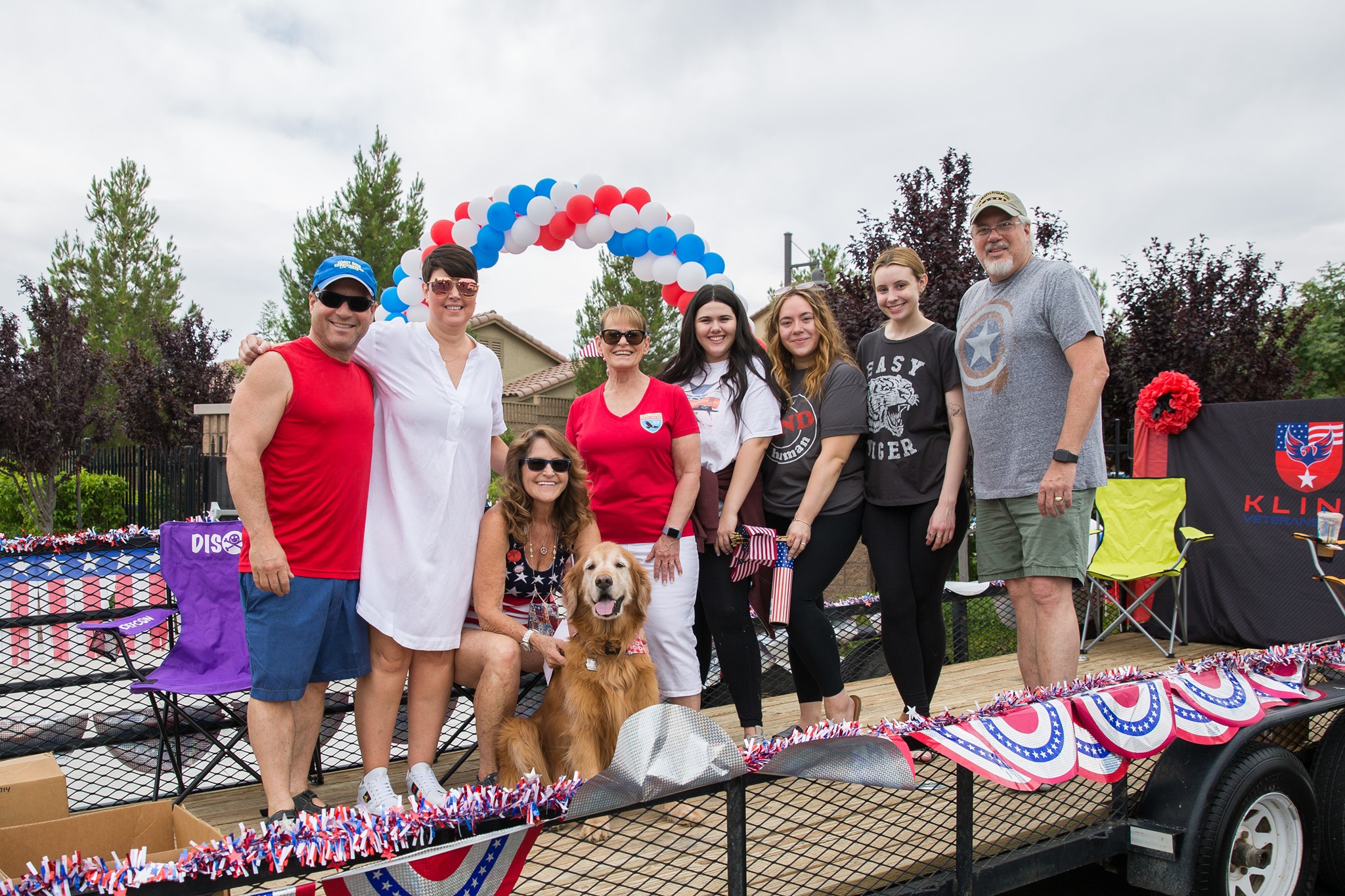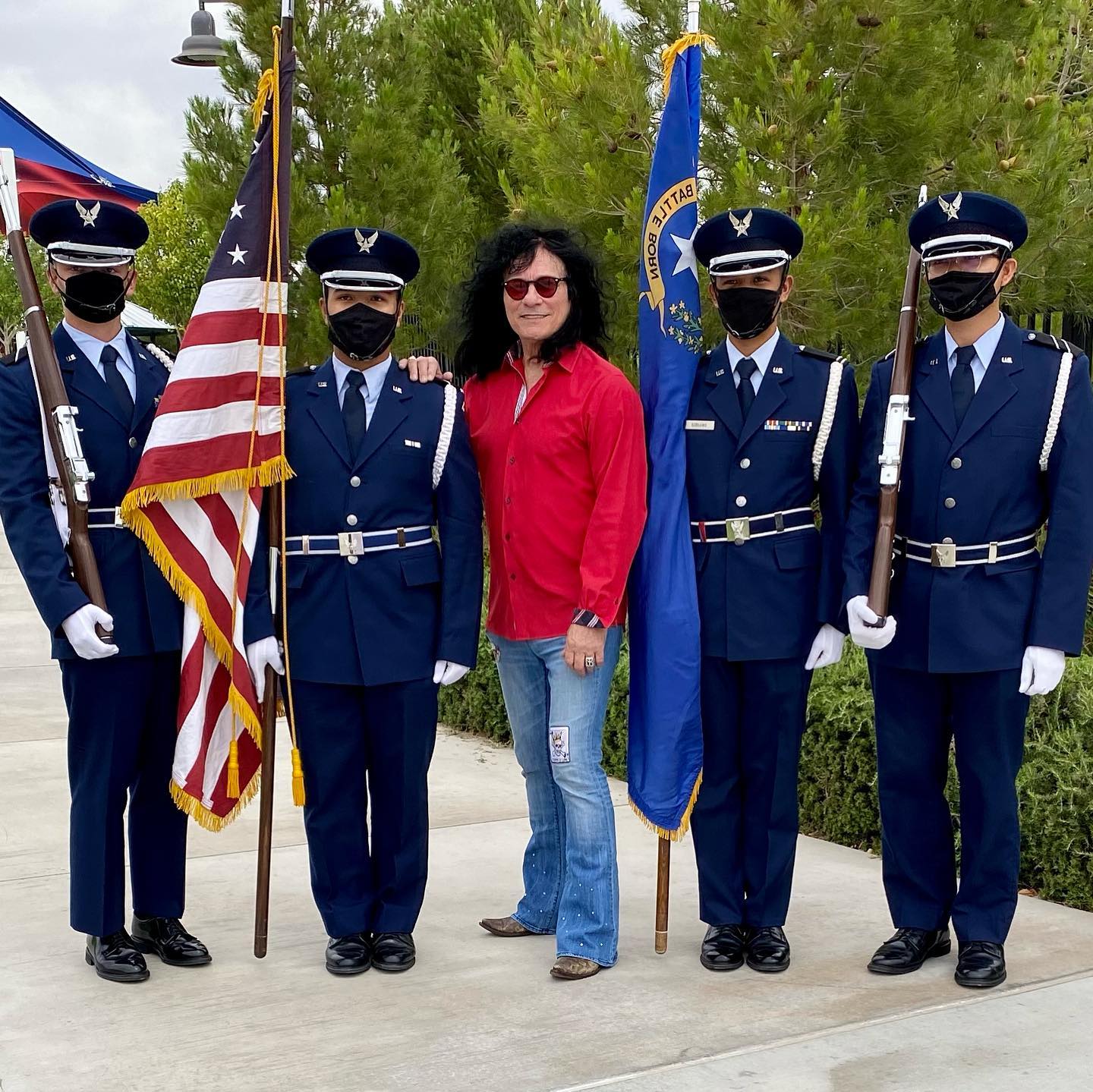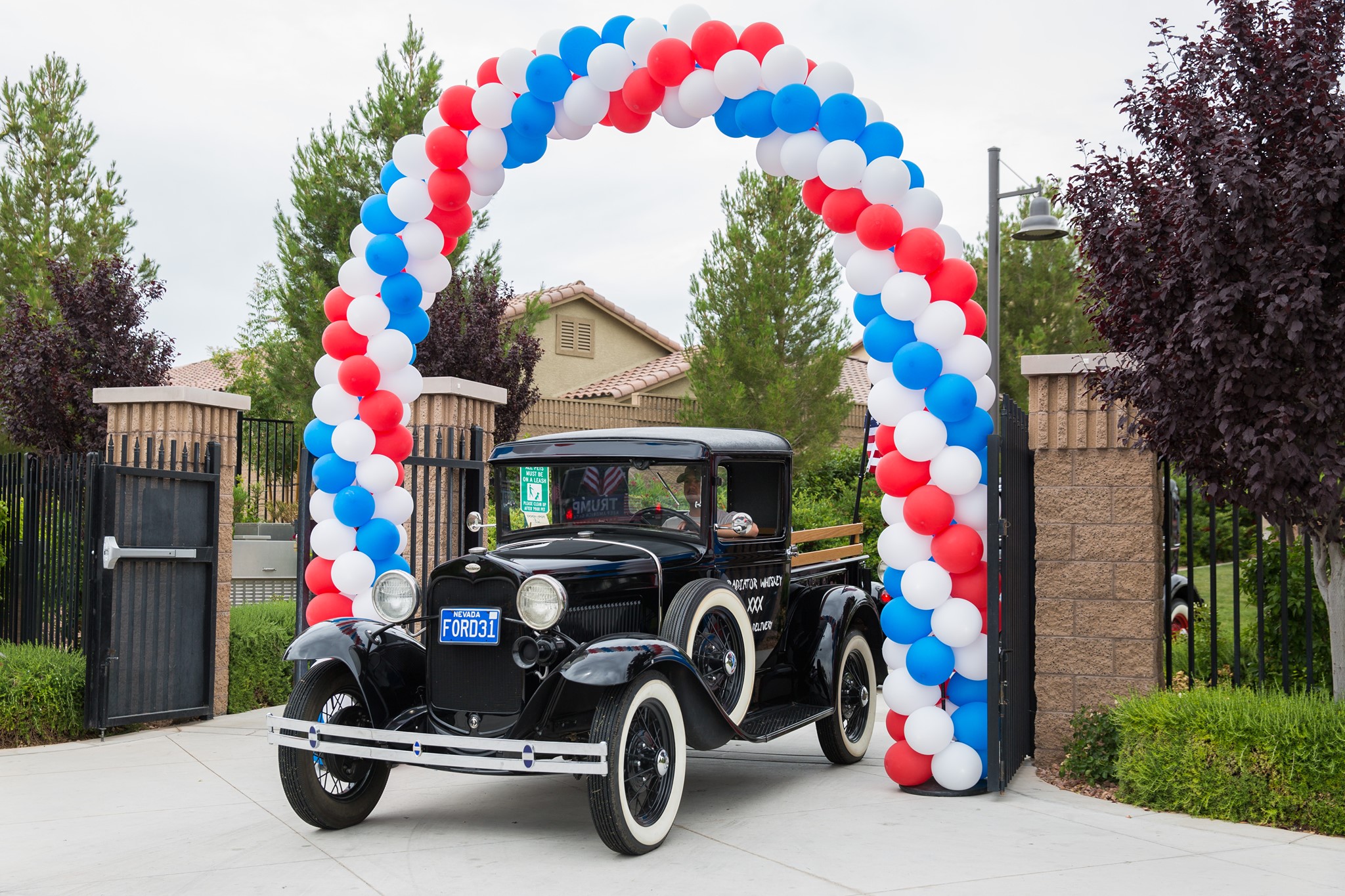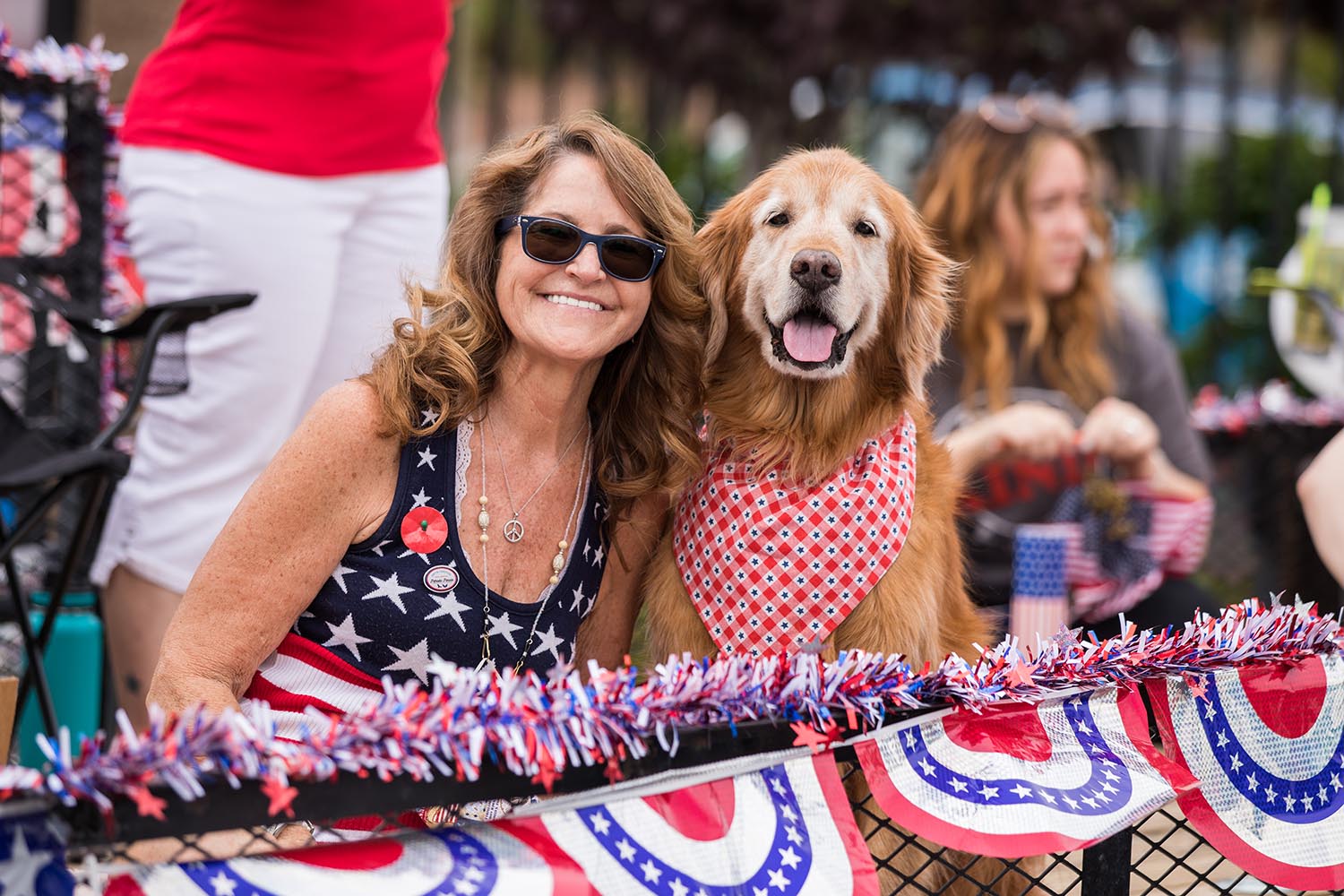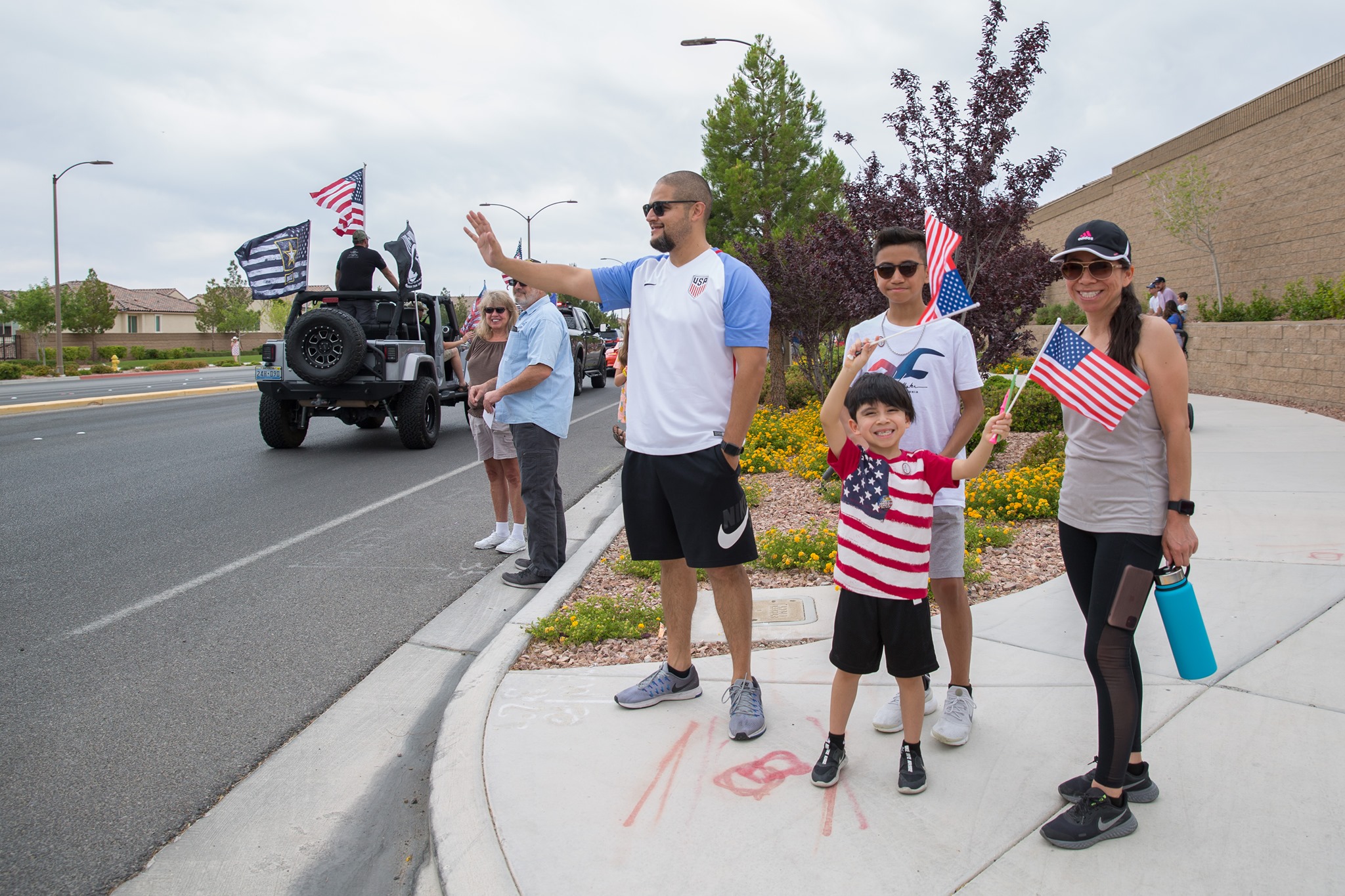 Mondays Dark raises $10,000 for veterans in 90 minutes 
On Monday, March 15, Mondays Dark featured HEROES: The Sounds of Marvel & DC Comics to benefit Kline Veterans Fund. The 90 minute show was live streamed to over 4,000 viewers and included favorite superhero movie soundtrack hits from some of Las Vegas' most popular singers. In addition to entertainment, there was a silent auction and together they raised $10,000 to support homeless and at risk veterans here in our community.
Mondays Dark is a twice monthly variety show hosted by Mark Shunock raising money for local charities one show at a time.
Photo credit: Alex Vasquez/Ocyris Photography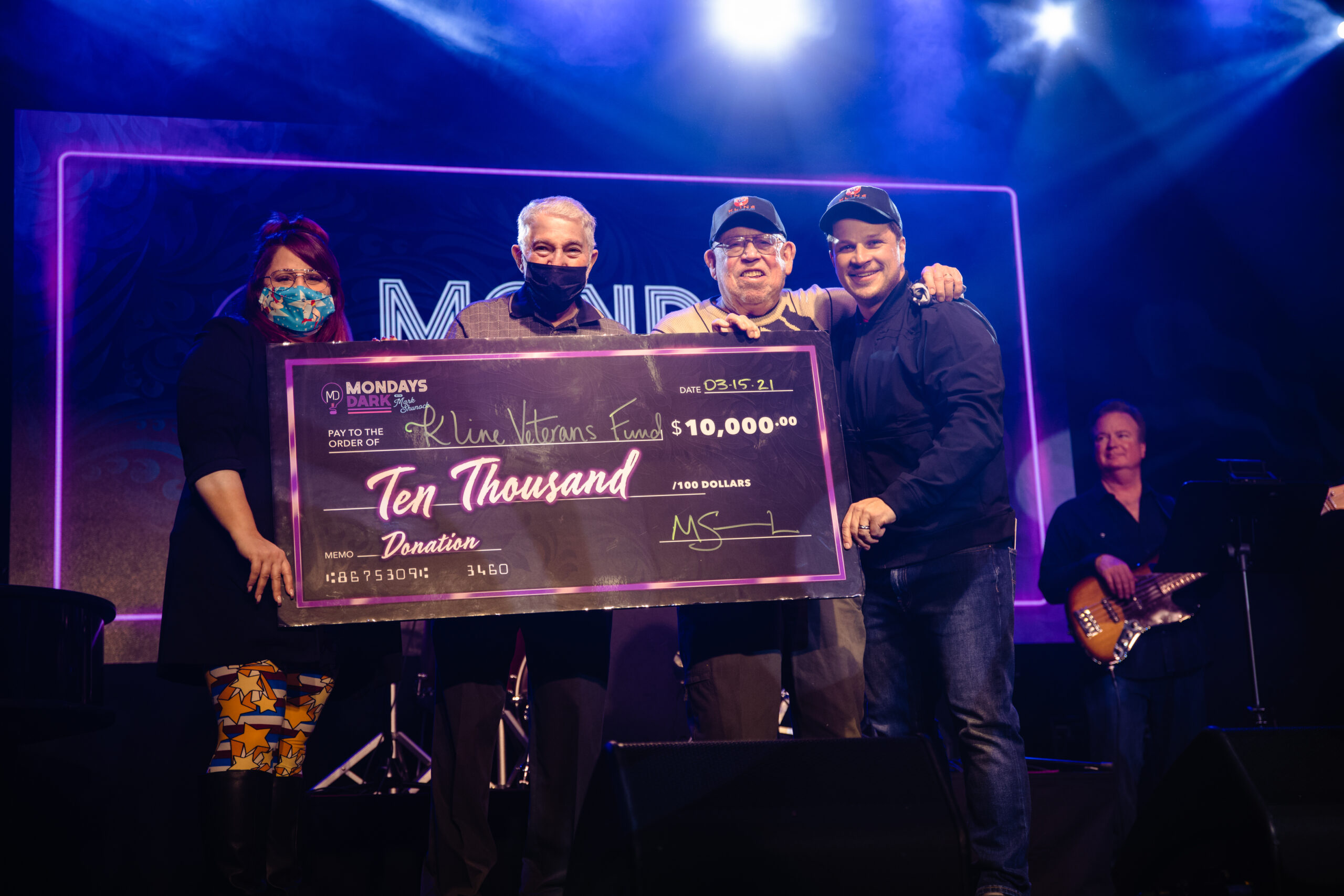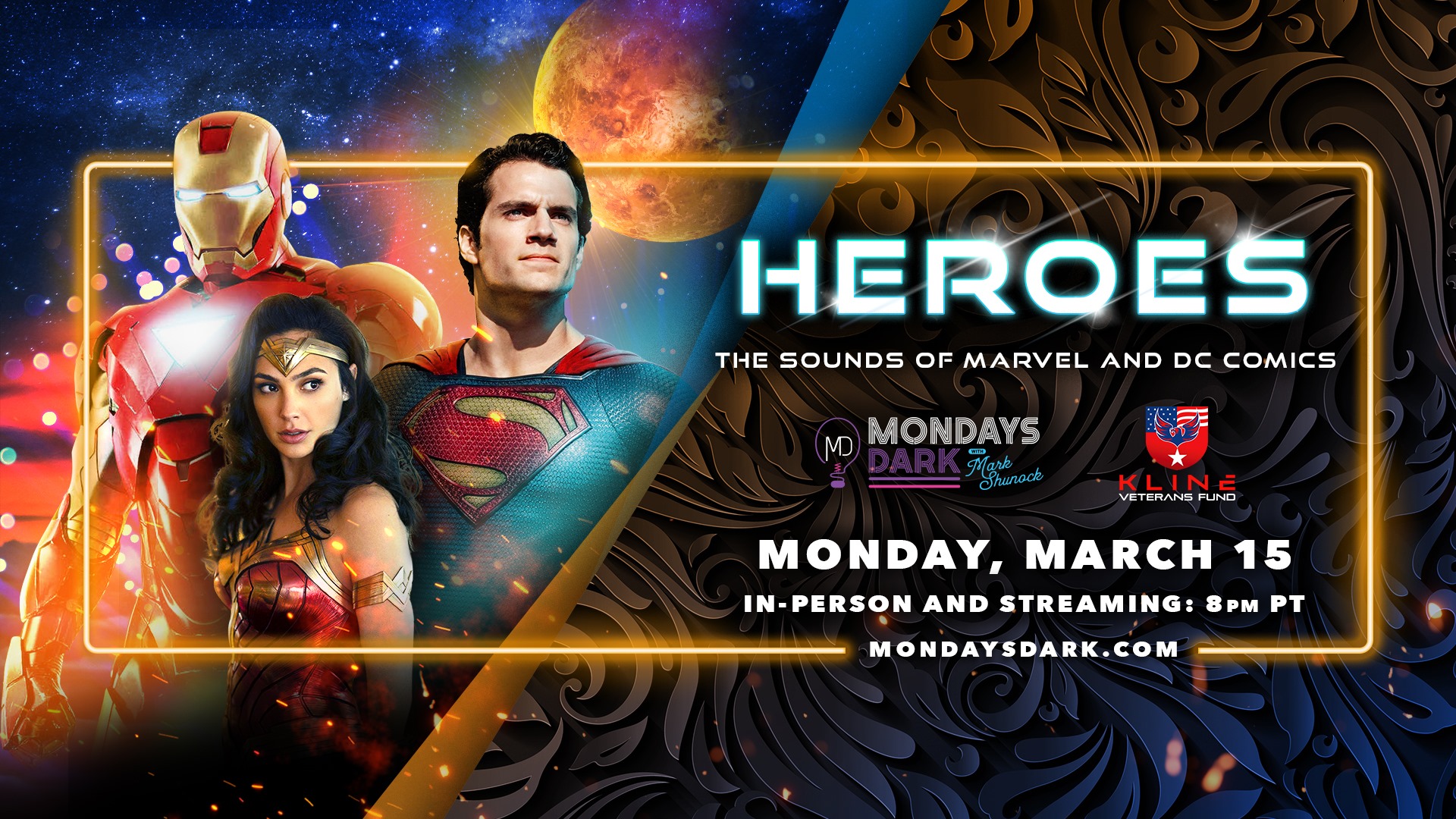 Second annual Skye Canyon 5K & Fitfest 
With fitness, health and safety in mind, Skye Canyon's Fit Fest 2021 was an exciting day as 150 residents ranging from novices to trailblazers to those just seeking a stroll with family, pets and friends enjoyed a day of racing and socially distanced, fitness-focused fun at Skye Canyon Park.
Even better, through Skye Serves – the community's philanthropic outreach program – 100% of proceeds from race registration totaling more than $3,000 was raised and will directly benefit the Kline Veterans Fund, a charitable organization providing financial assistance and other support to homeless, at-risk and indigent veterans and their families in Southern Nevada.
Part of Skye Canyon's ongoing Thrive@Skye program and planned in accordance with current safety directives, the crisp and beautiful day began with the presentation of the colors by UNLV Air Force ROTC, Detachment 004 Honor Guard followed by star of the longest running musical theatre comedy show in Las Vegas history, "Menopause the Musical," Vita Corimbi Drew, sang the national anthem.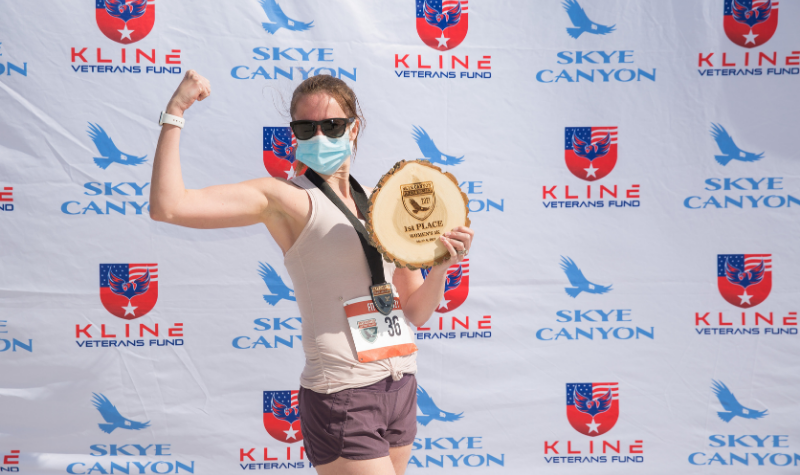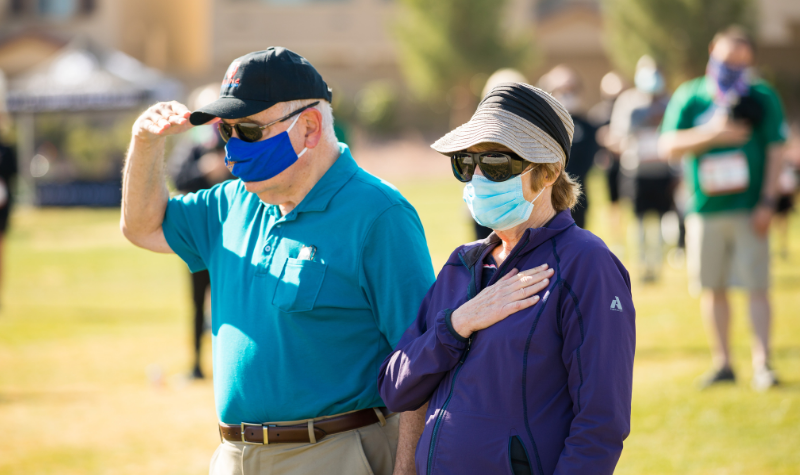 2020 Salute to Veterans Golf Tournament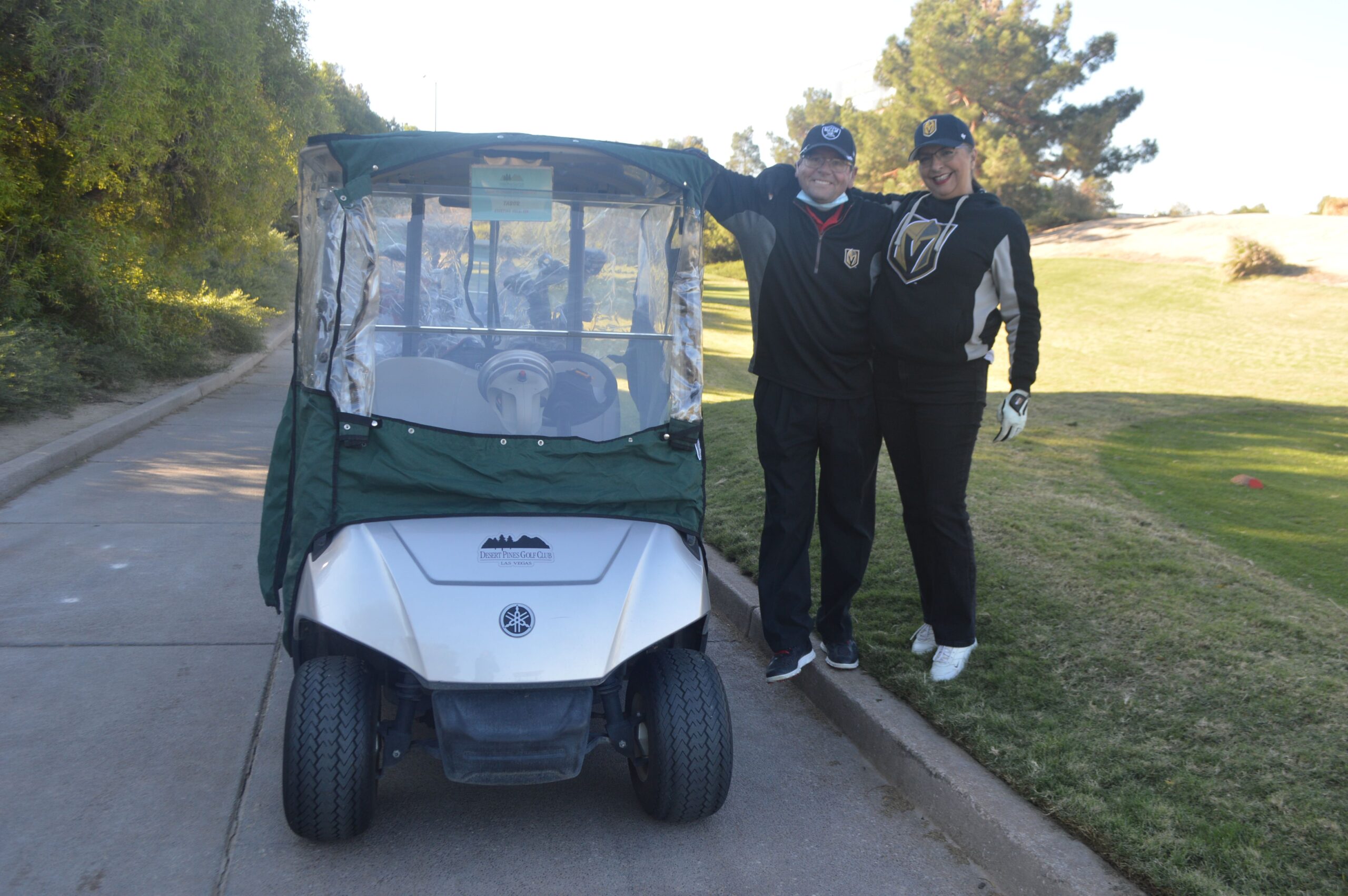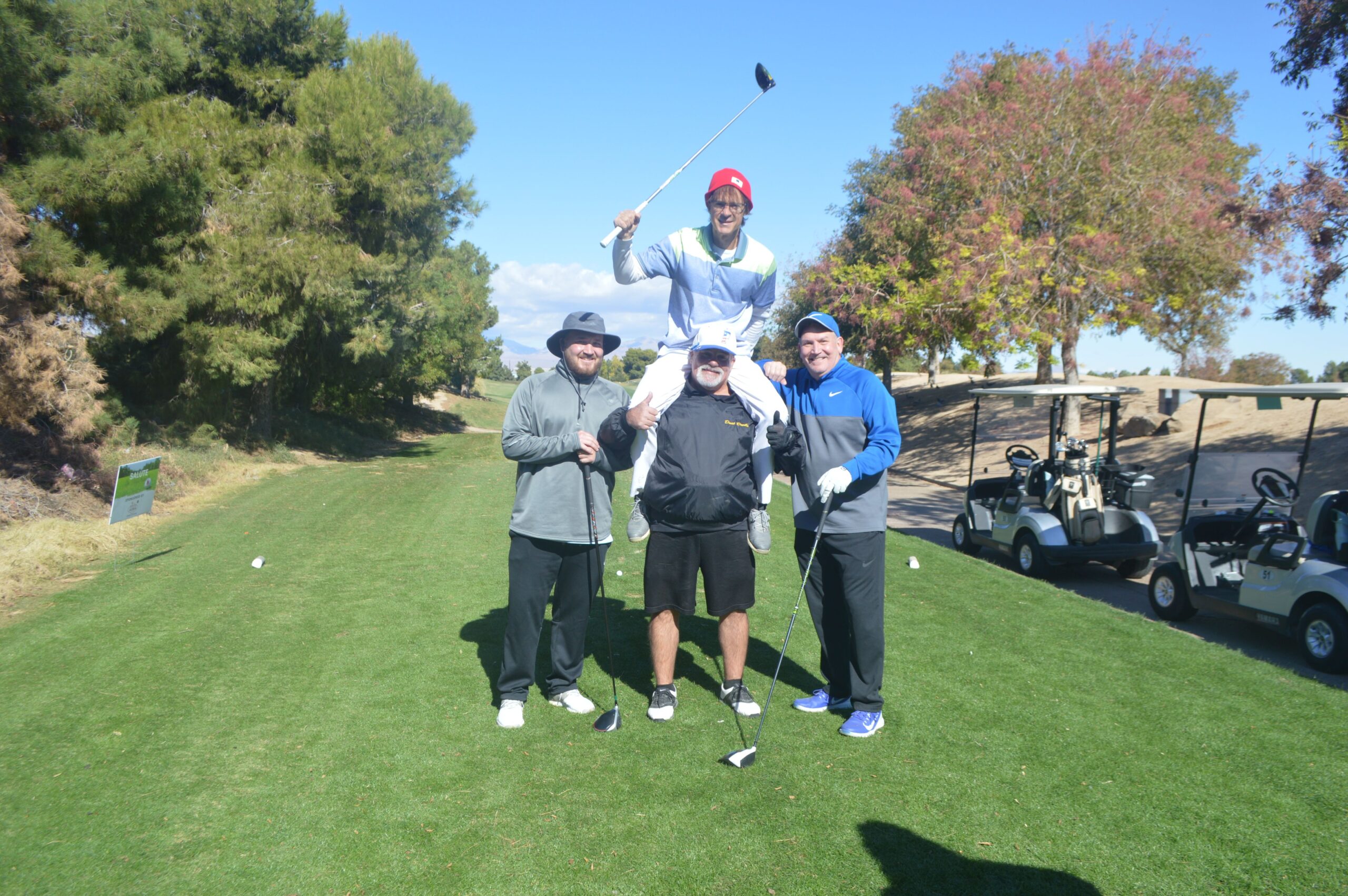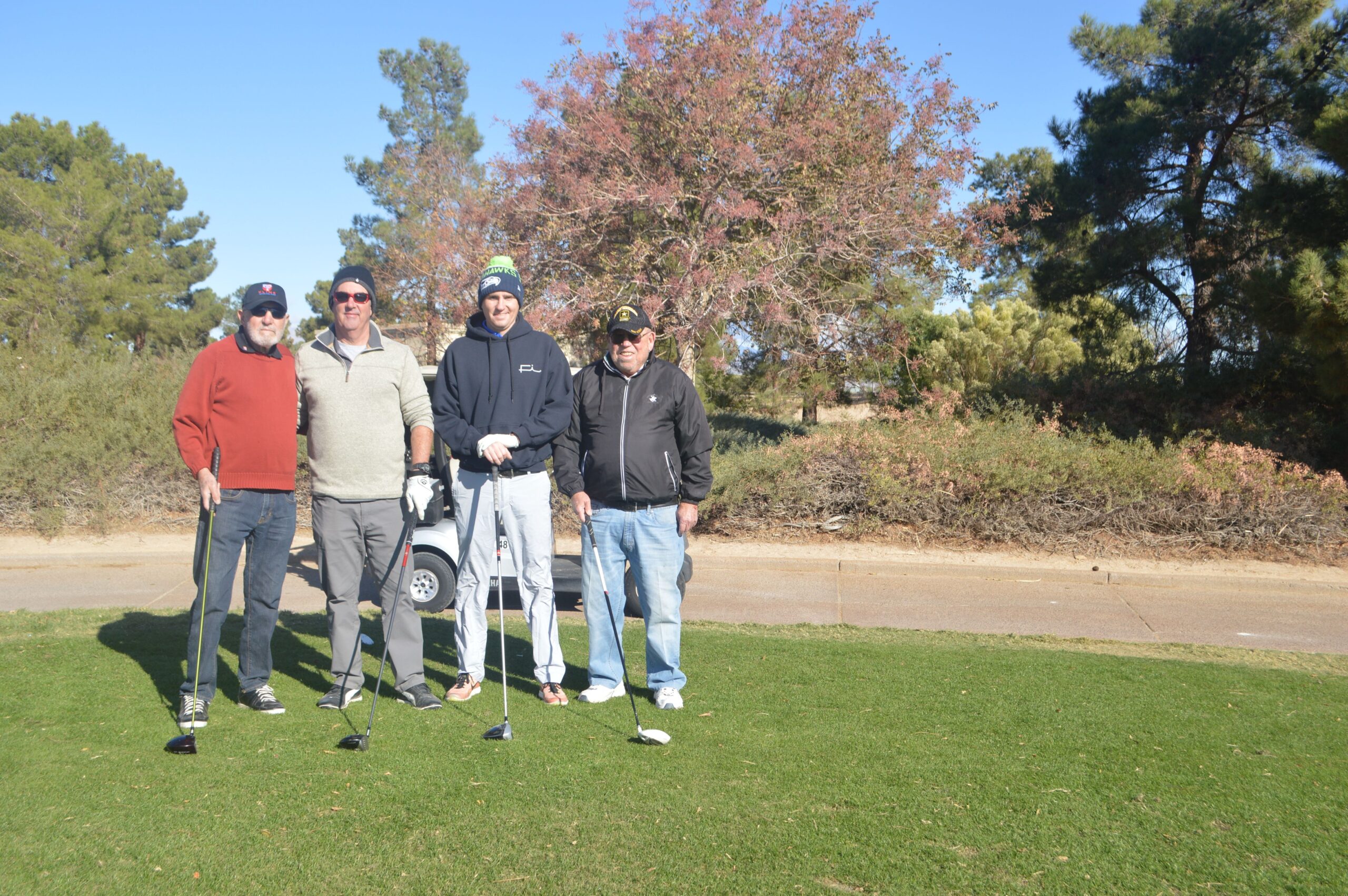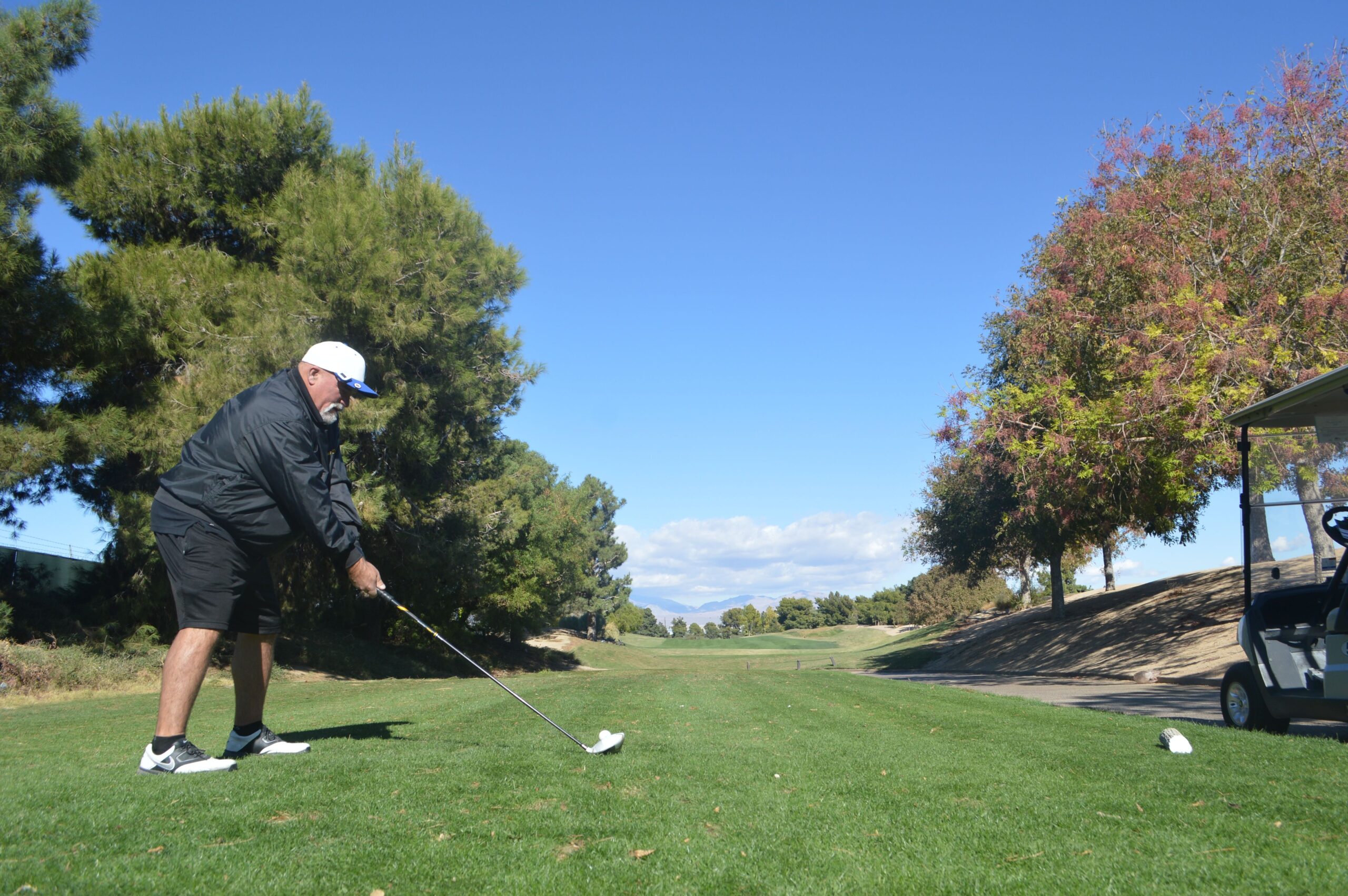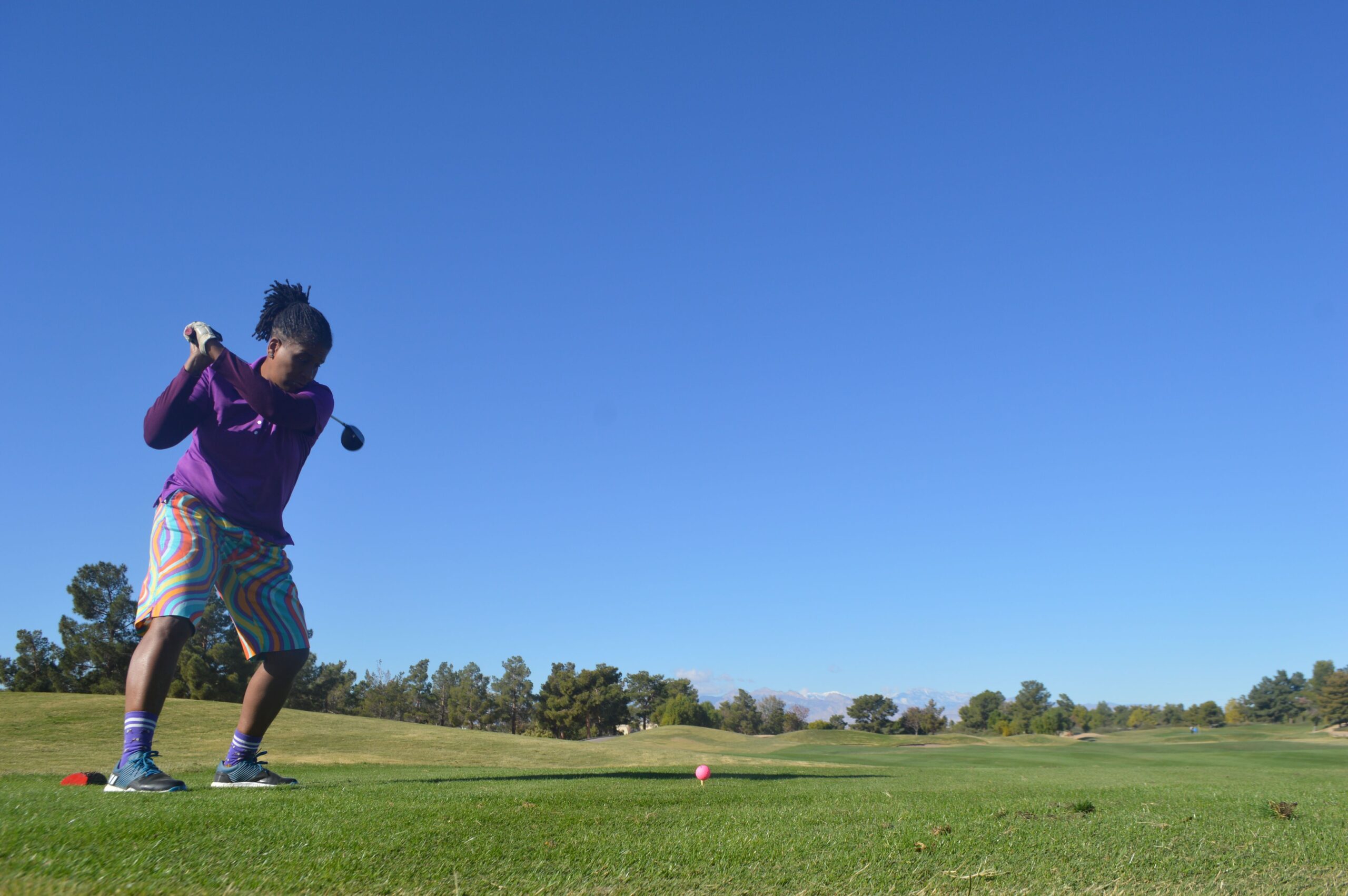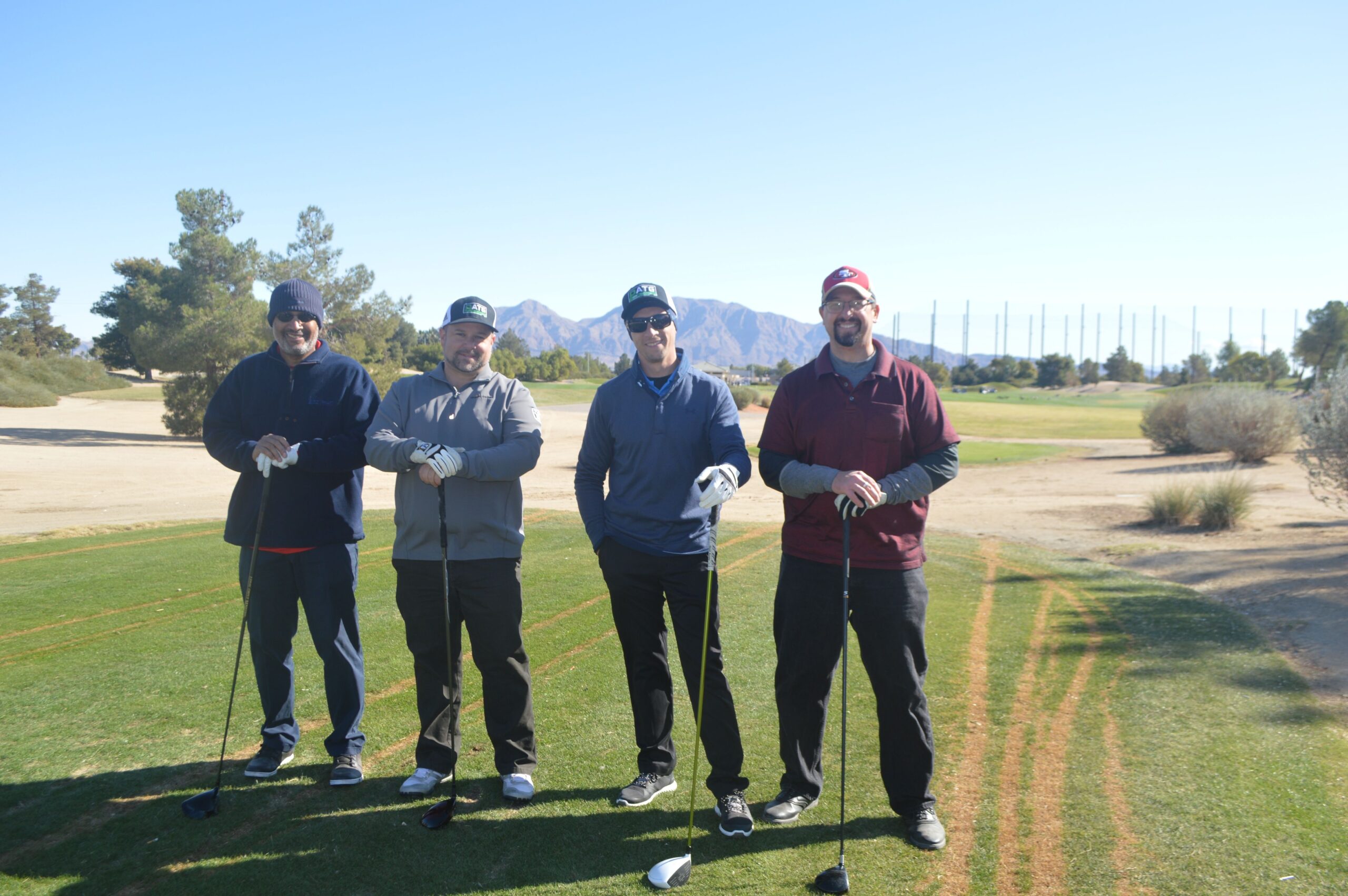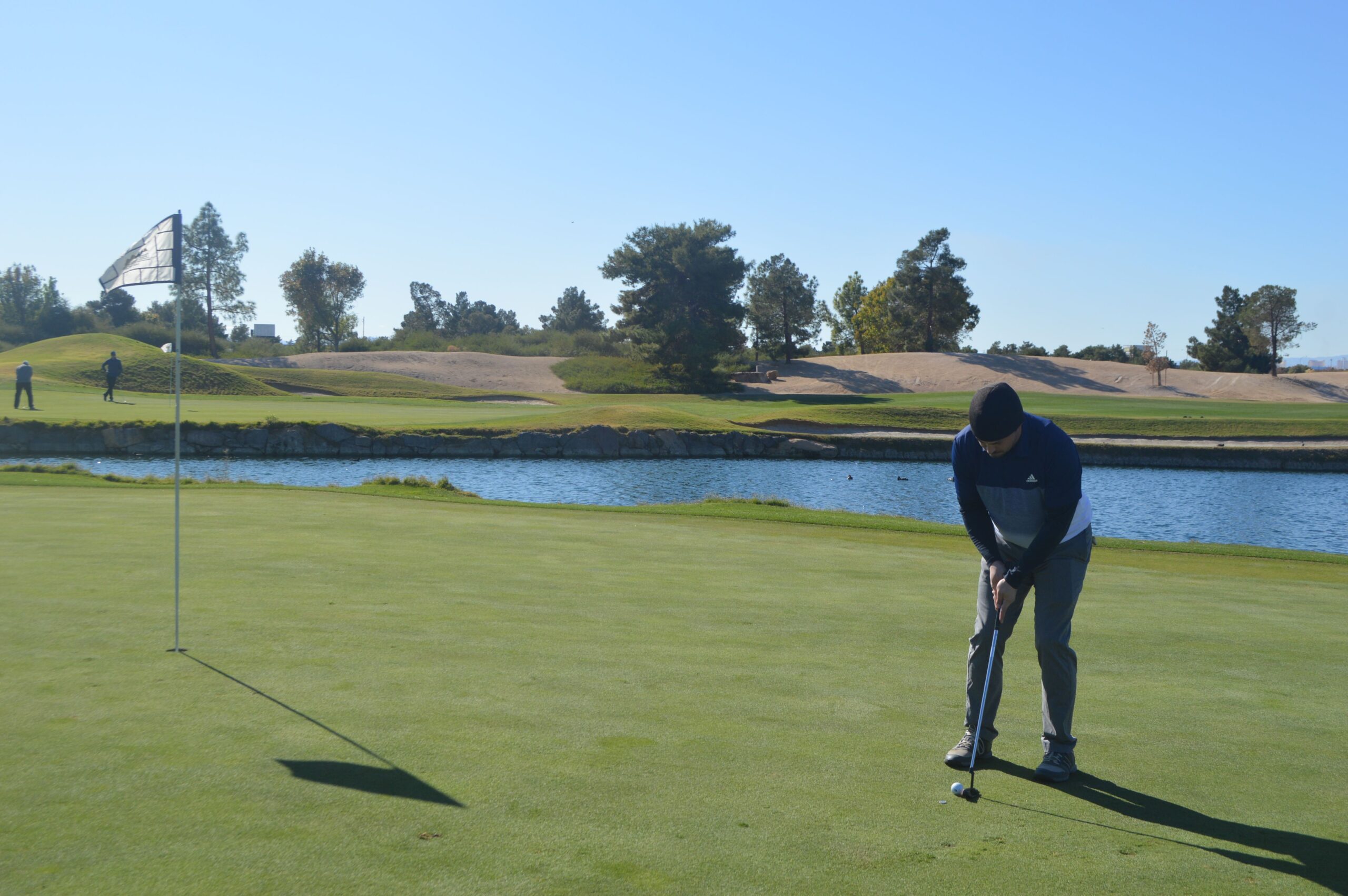 Skye Canyon 5K/8K/Run Run & Fit Fest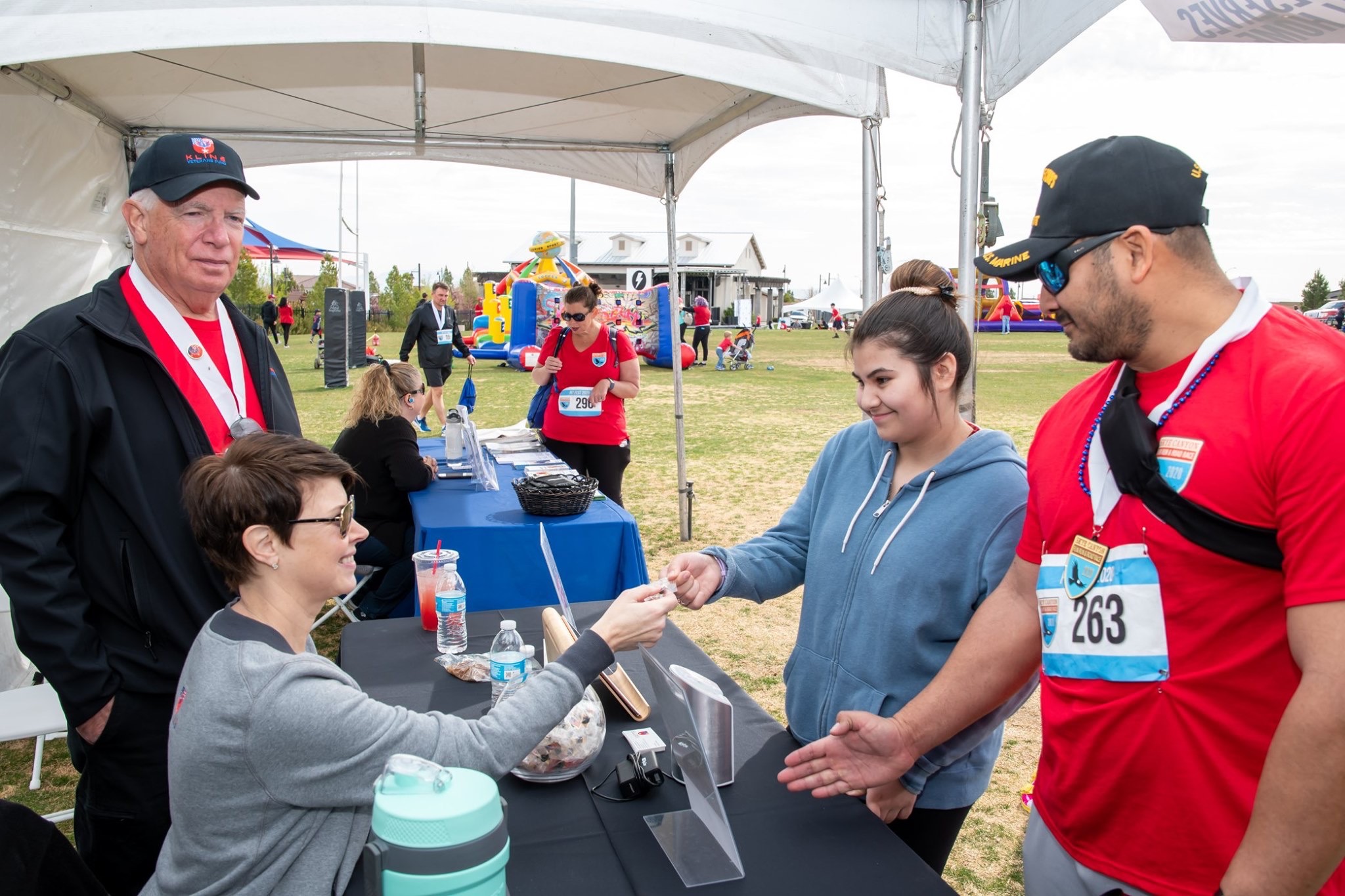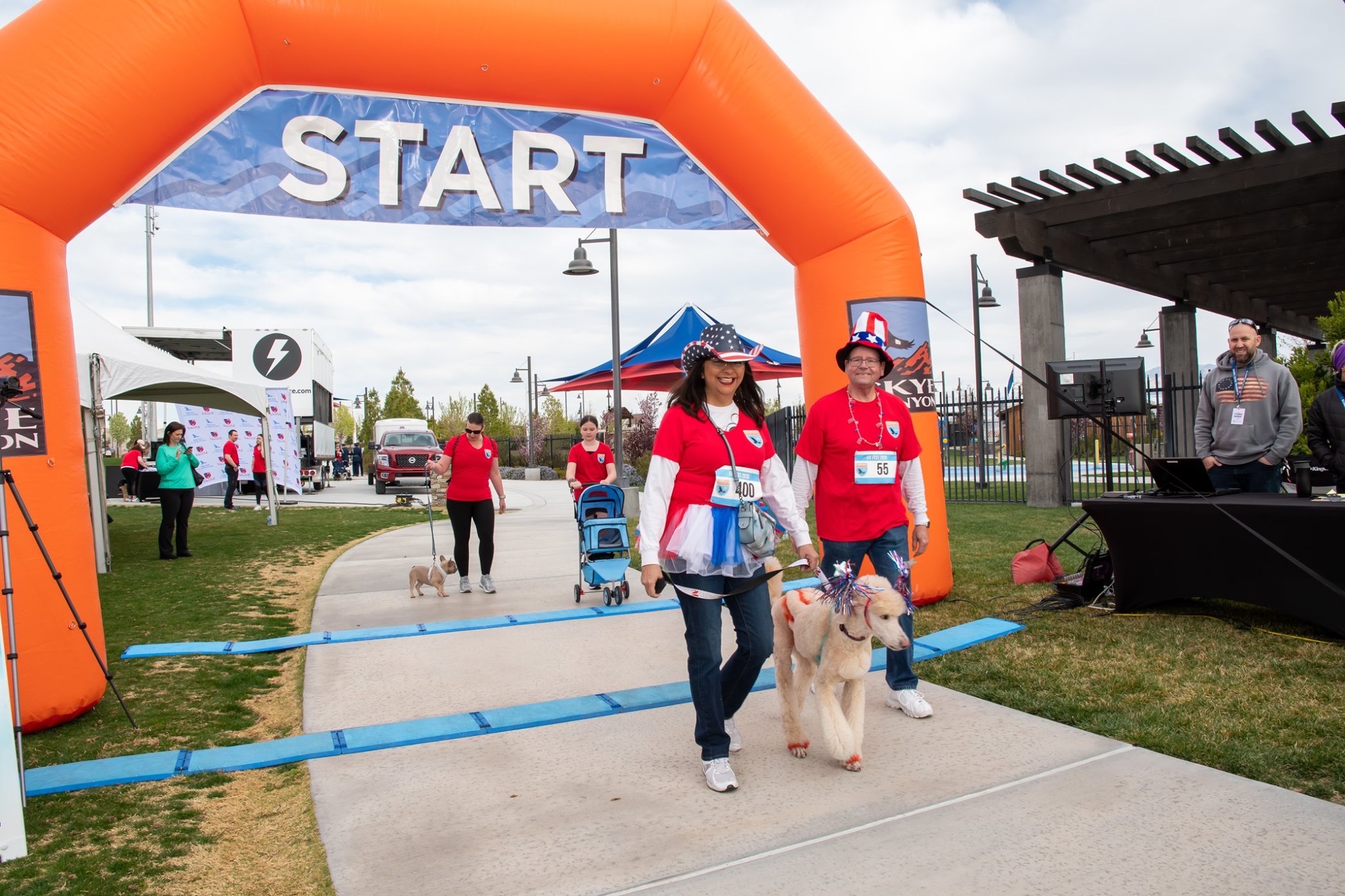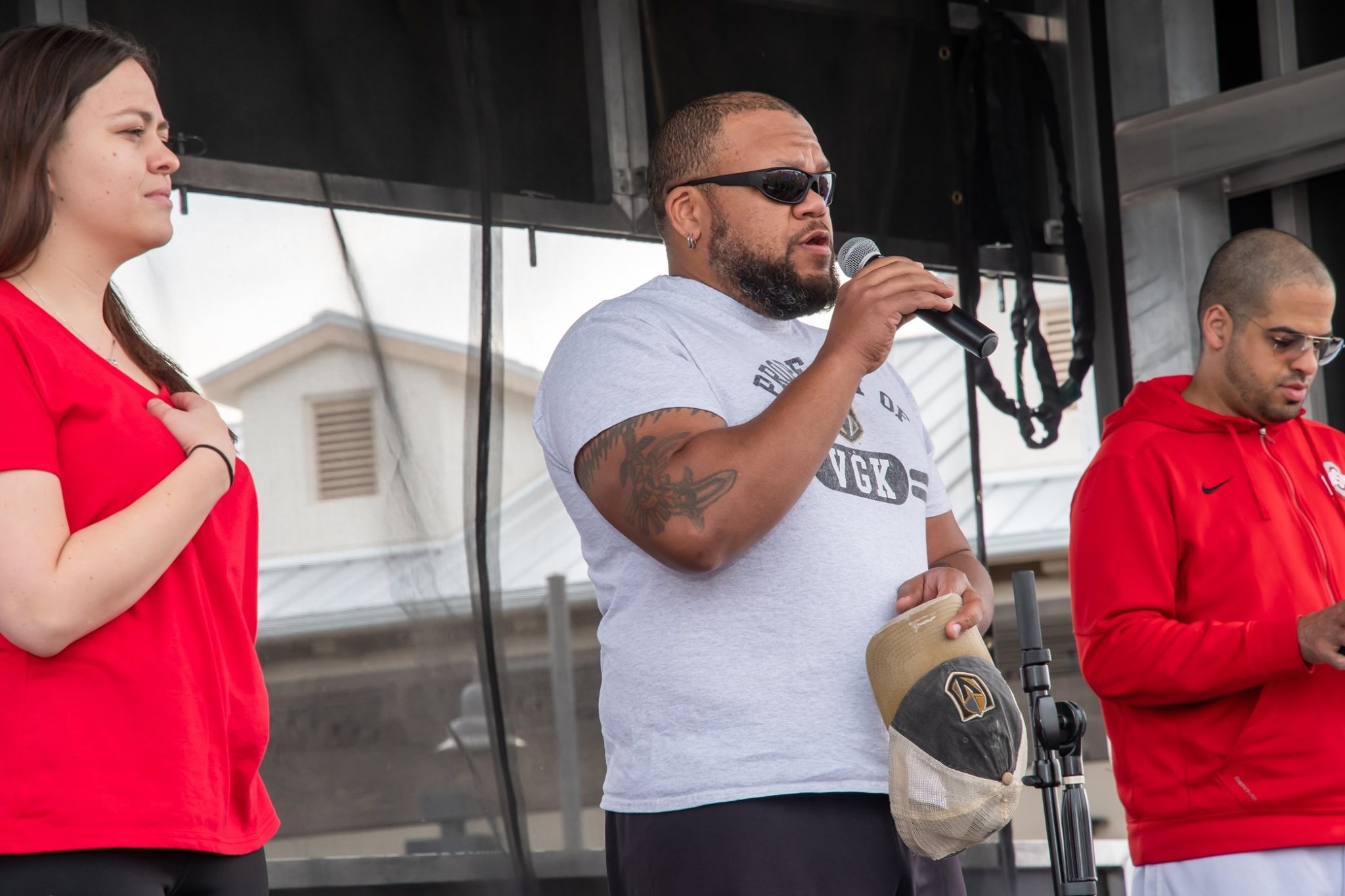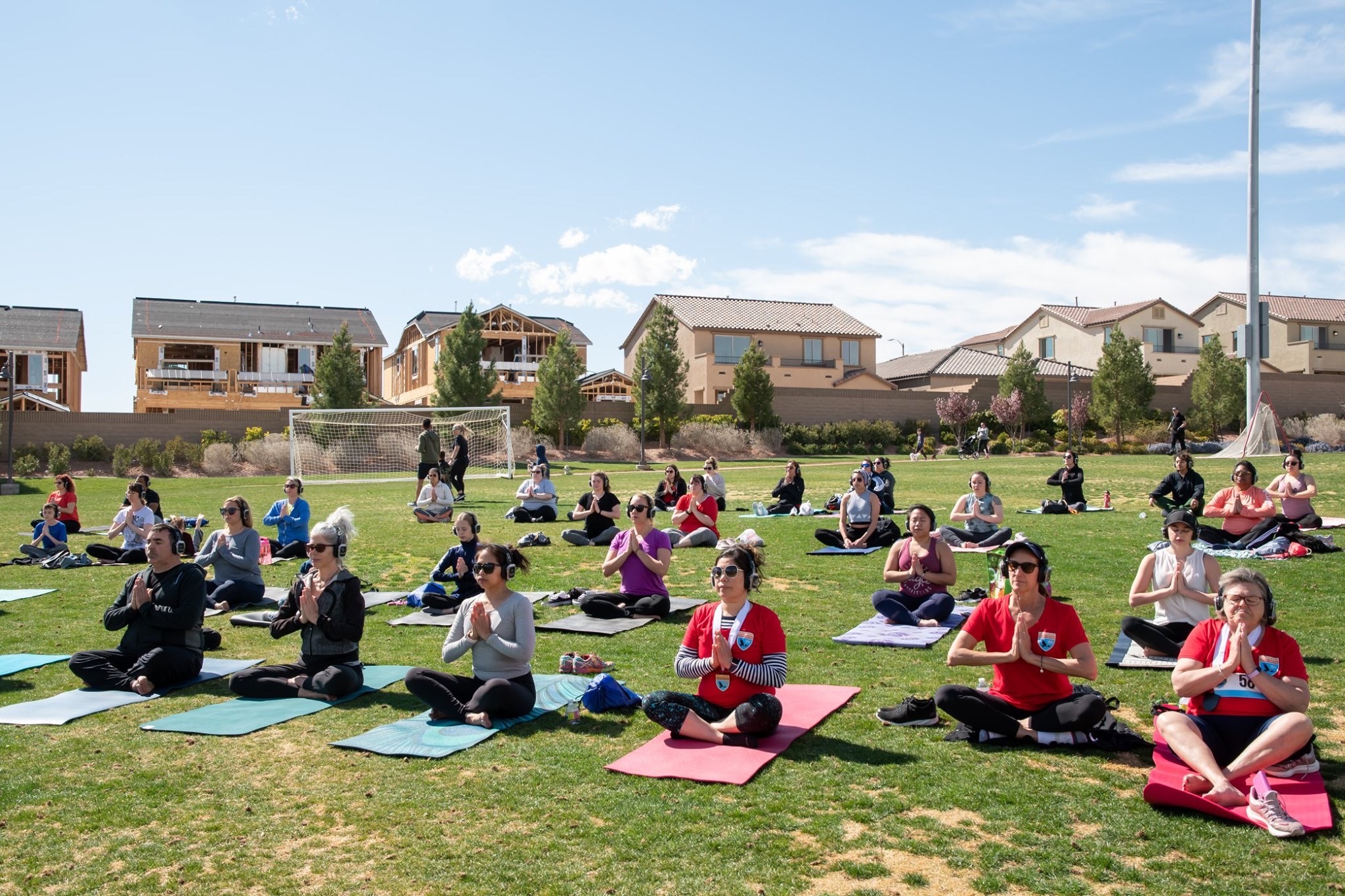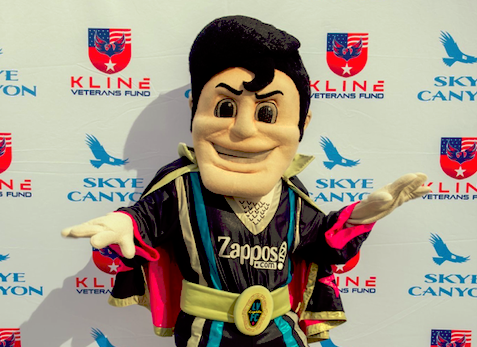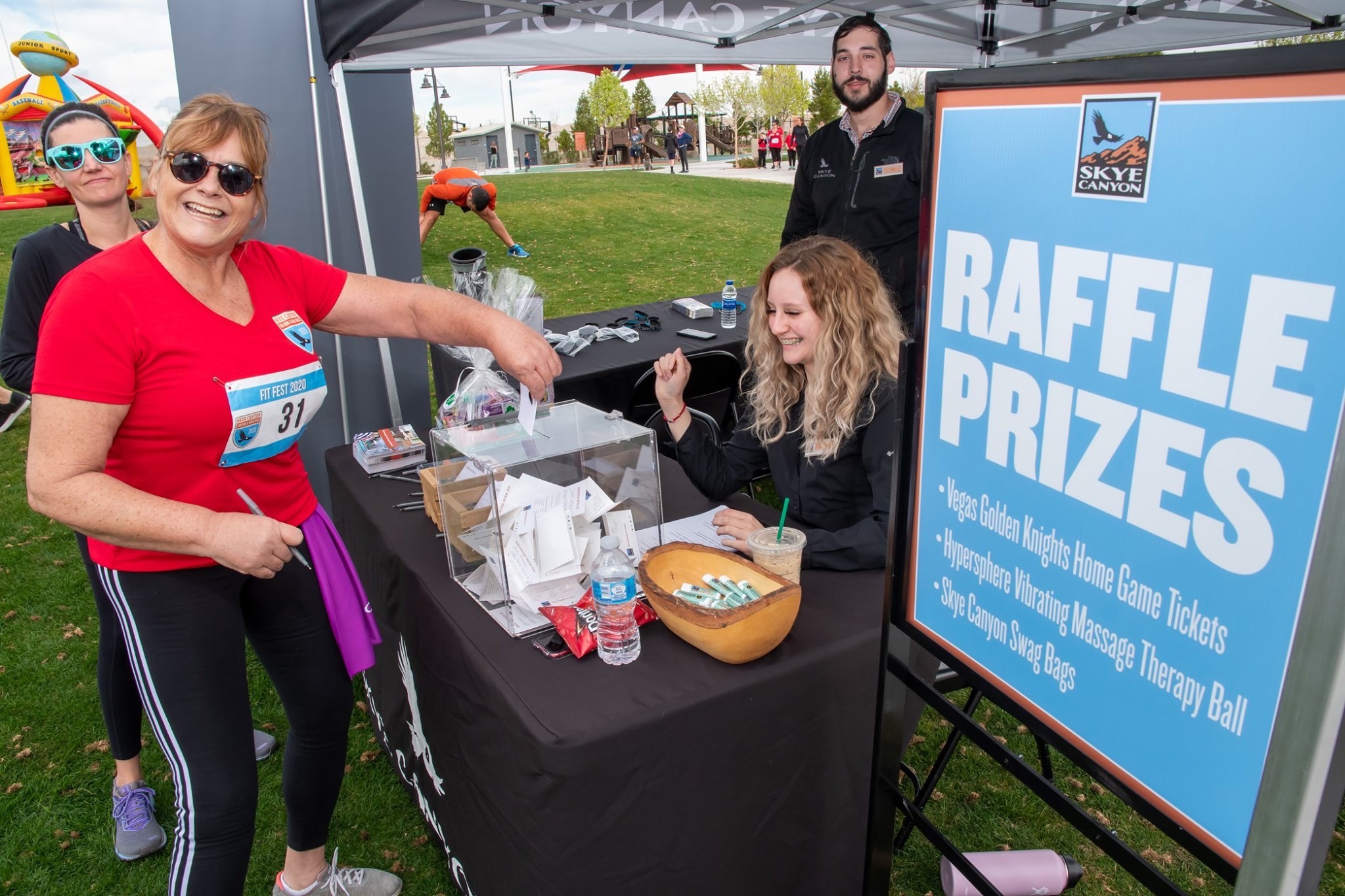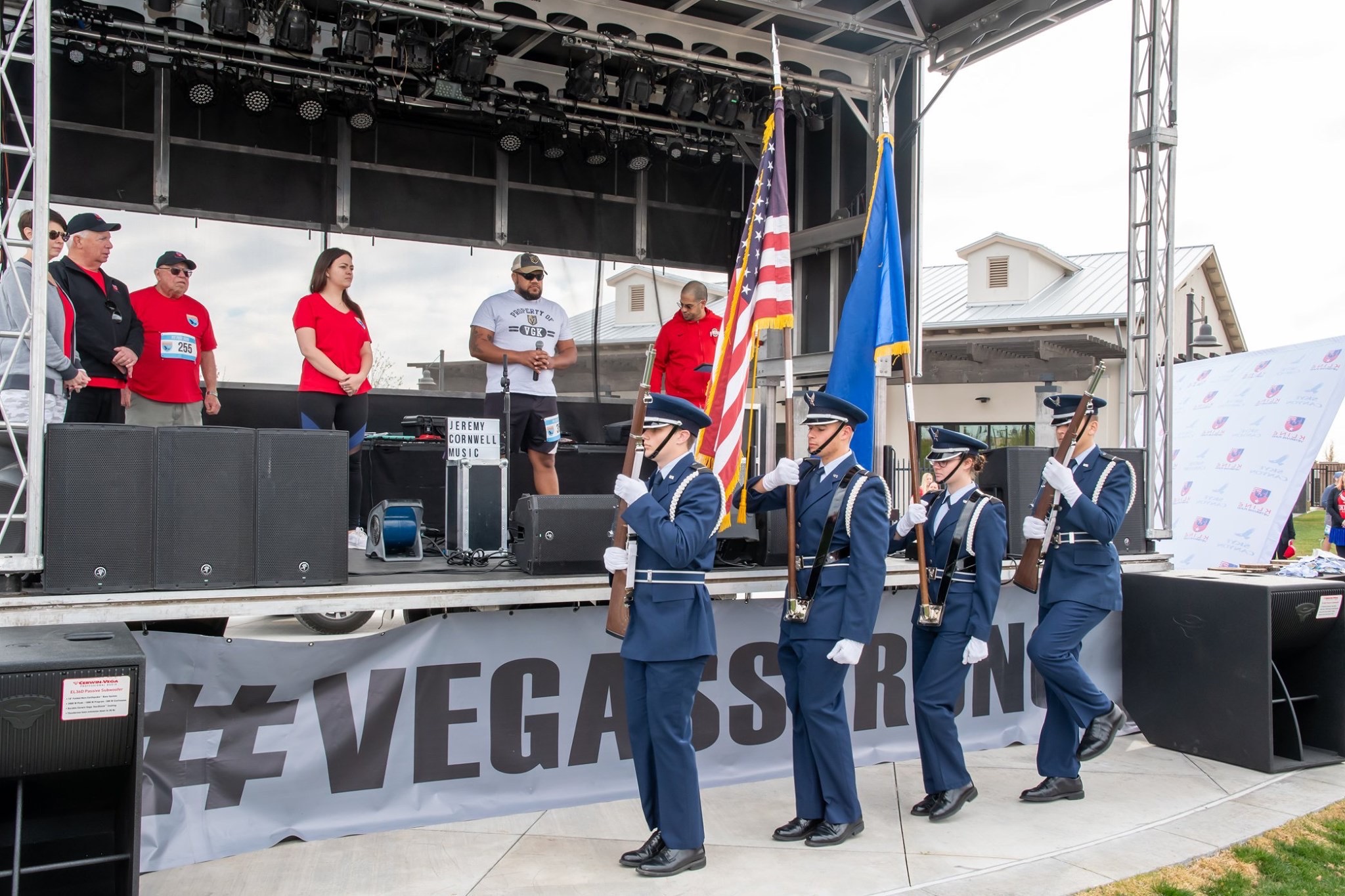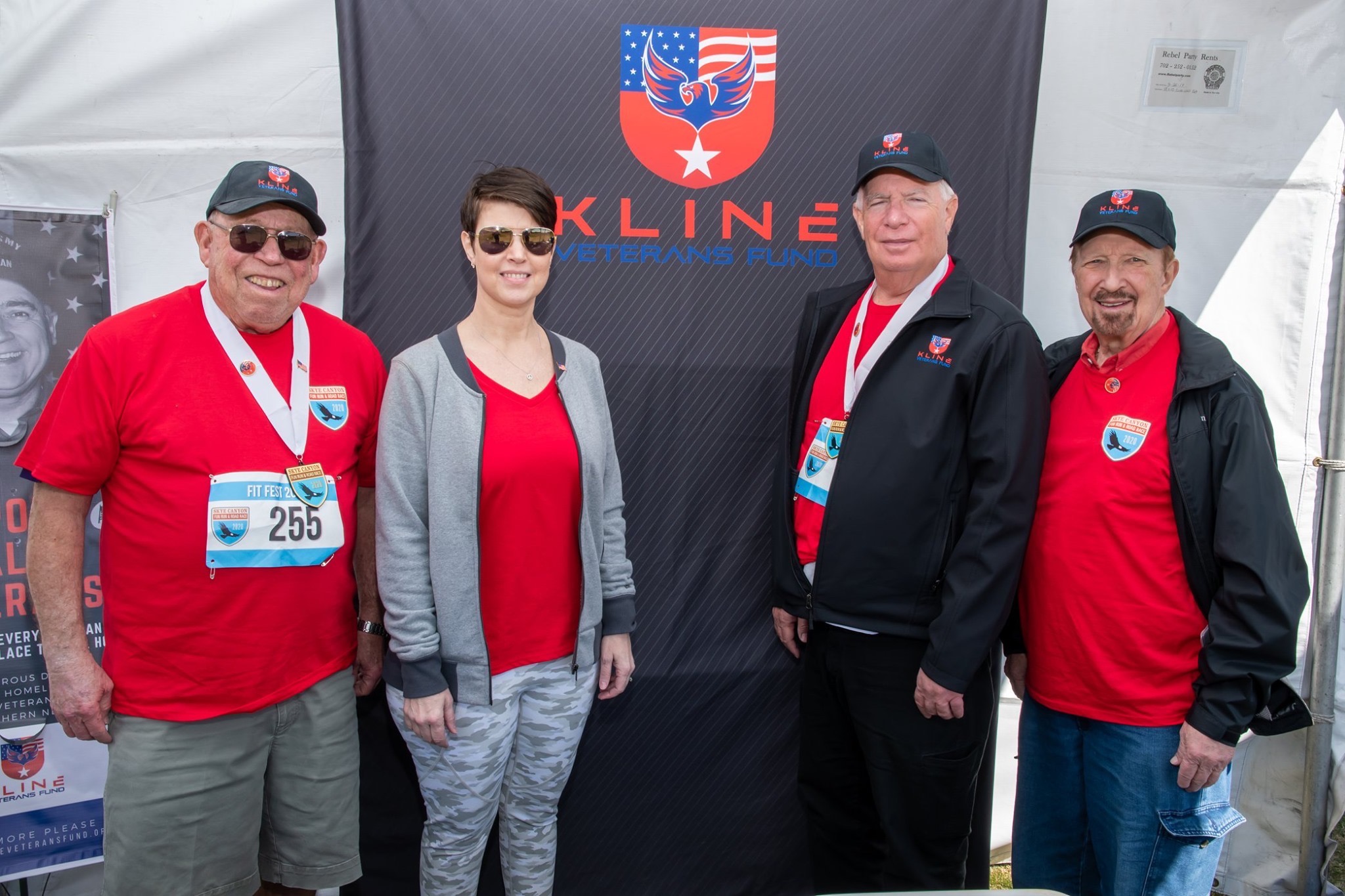 9/11 Tribute to Veterans and First Responders
On Wednesday 9/11, 5,100 fans gathered at Cashman Field for the Kline Veterans Fund Tribute to Veterans and First Responders during the Las Vegas Lights FC soccer match. The UNLV Rebel Battalion honor guard presented colors while EMMY award winning actress and vocalist Vita Corimbi Drew sang our national anthem. Jeremy Sonenschein, a former FDNY firefighter/paramedic was honored as the game's pink scarf recipient. Veterans, first responders, and medical personnel were honored by the crowd during a halftime ceremony.
"It was heartwarming to see so much of the Las Vegas community come together in reverence for 9/11 to honor the thousands of lives lost and to pay tribute to our veterans and first responders who heed the call to protect and defend us every day. We are so appreciative of our community partners UFC and the Lights organization for their commitment to helping homeless veterans in Southern Nevada."  Stephanie Helms, Executive Director
"It's always fulfilling to put on an event honoring our heroes. It's even greater when you have great partners and a real cause to benefit. Working with Kline Veterans Fund to put on our Tribute to Veterans and First Responders on September 11th this year was an amazing experience. We were able to unite the community for a great cause and honor countless heroes in the process." Bobby Long, Las Vegas Lights FC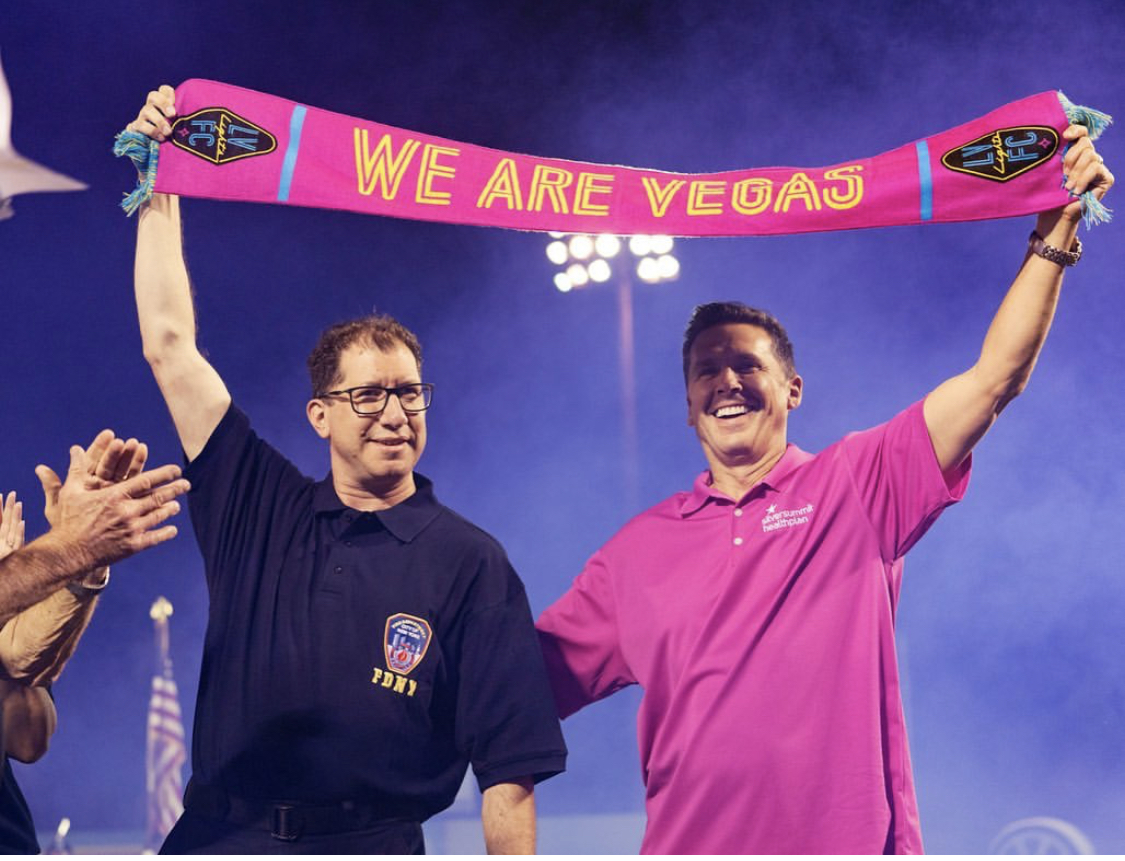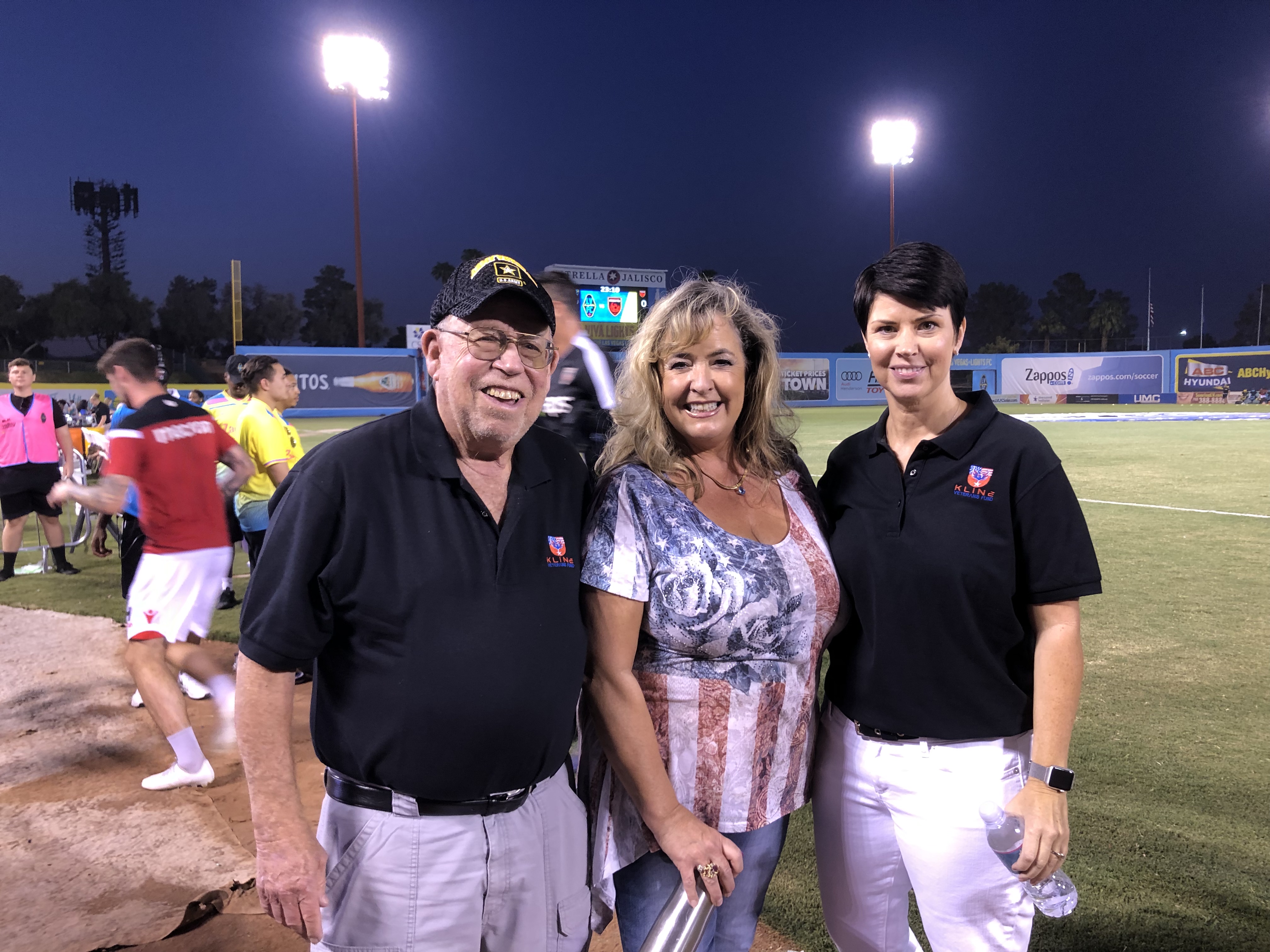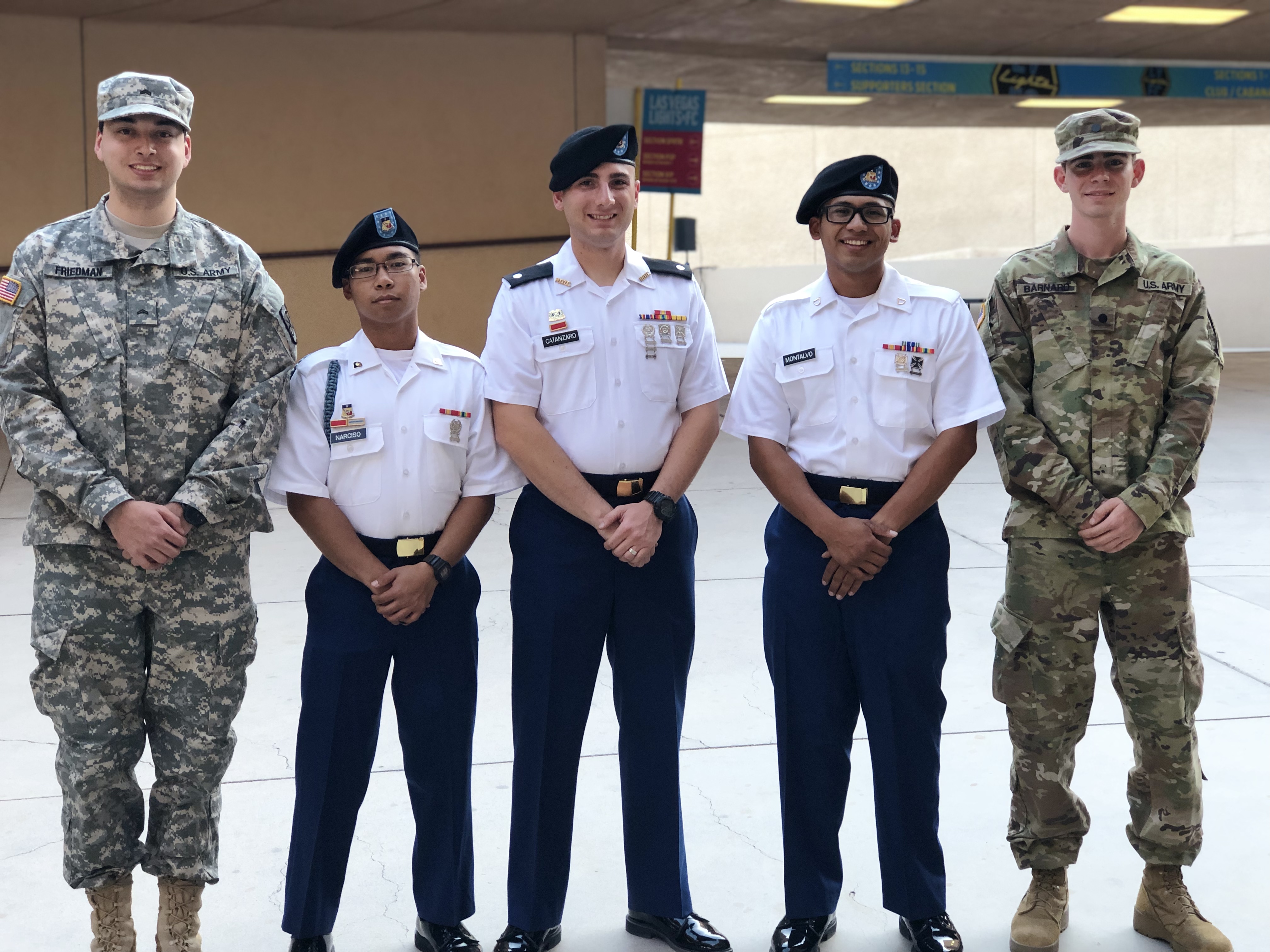 Kline Fund partnered with the Raiders Foundation to provide service dogs to deserving vets
On Wednesday, June 26 the Raiders Foundation took Kline Fund board members and two local veterans on a tour of the new stadium where two veterans with surprised with the news that they would receive a scholarship for service dog training.
Two local veterans were told Wednesday that the Raiders Foundation will provide the funds to Kline Veterans Fund to help get their service dogs.Both veterans had been on the waitlist for more than a year.
Supporting veterans and active military members is part of the Raiders Foundation's mission and we thank them for their life-changing support. Local non profit Michael's Angel Paws will provide the training.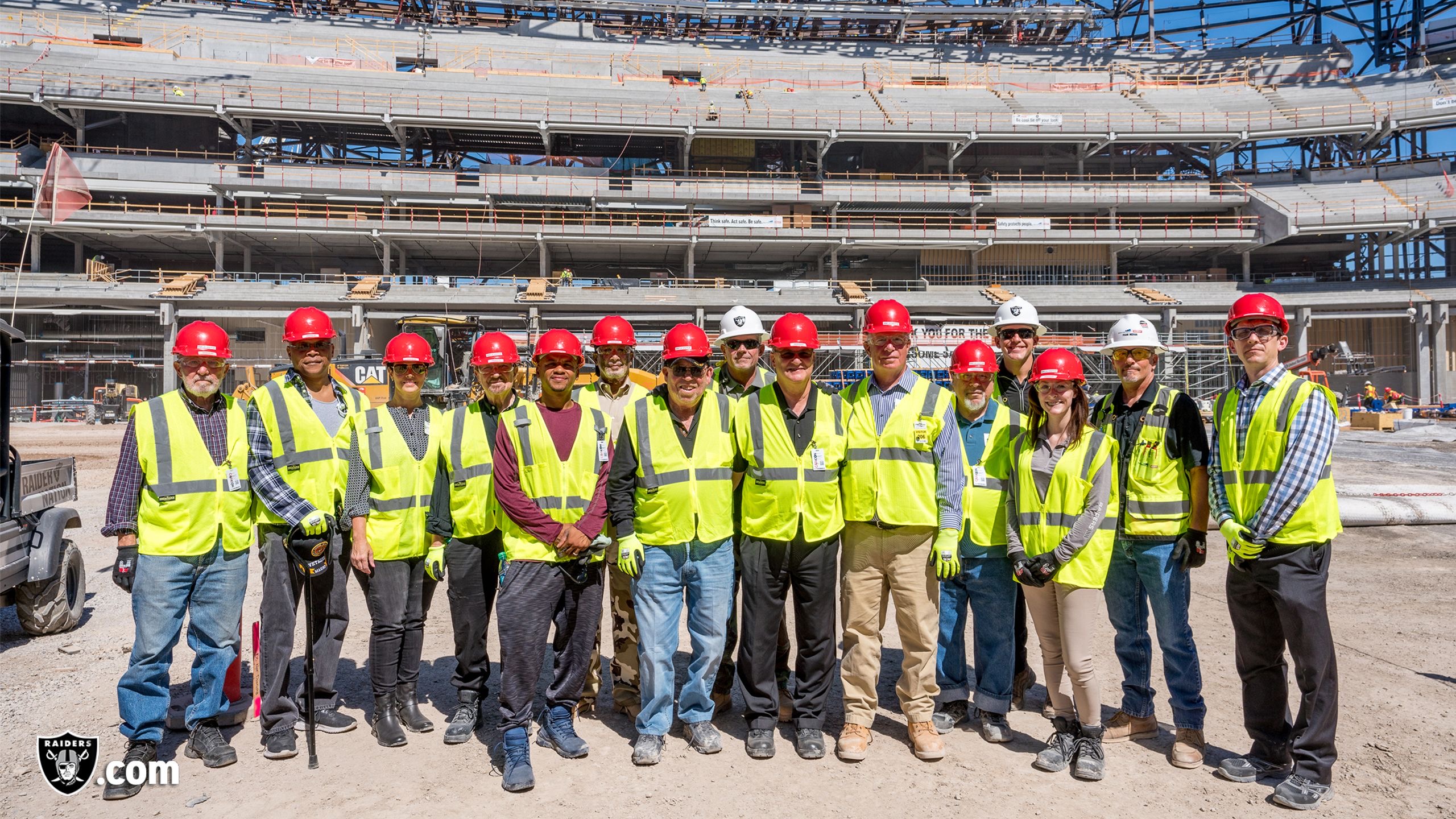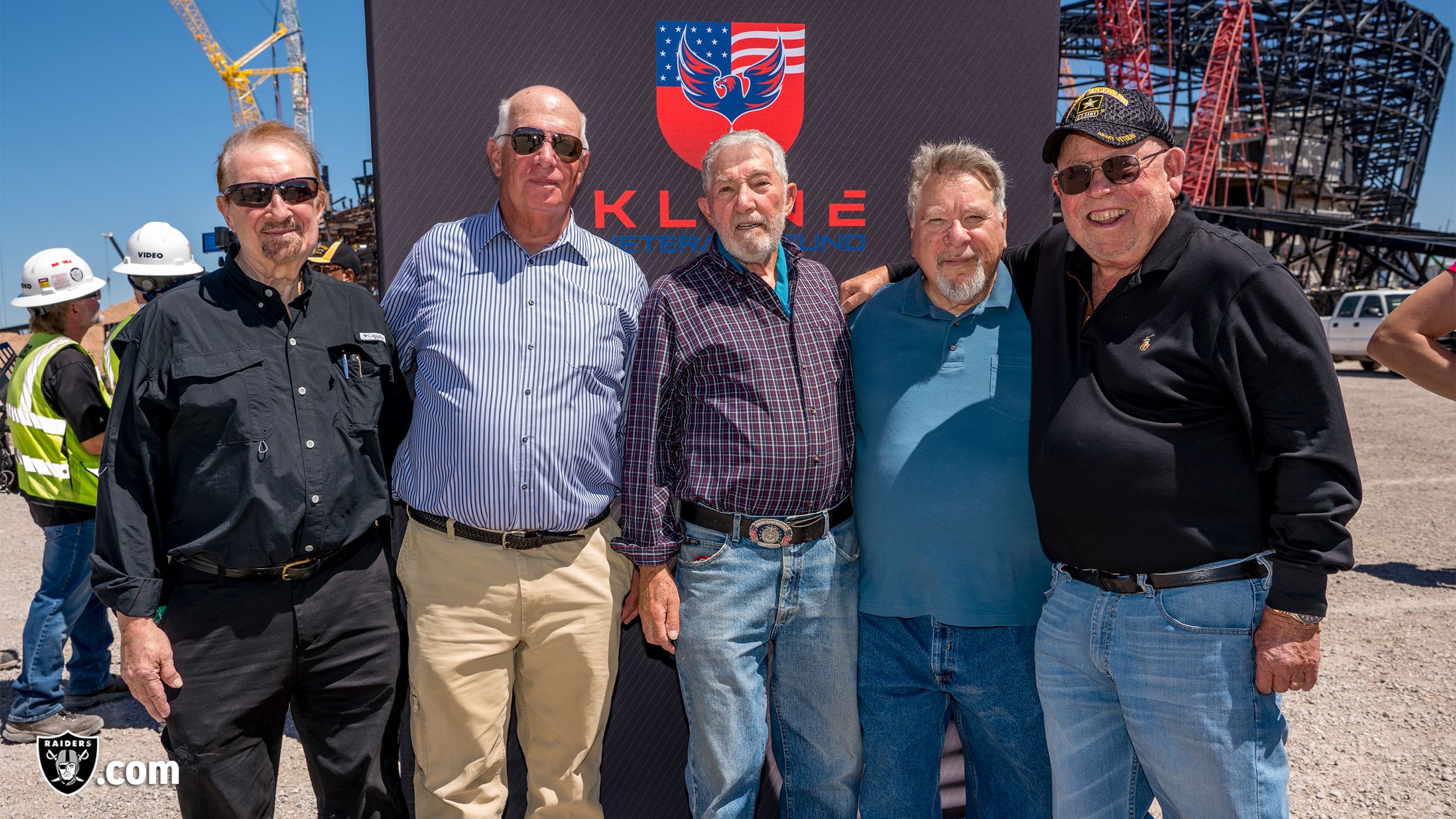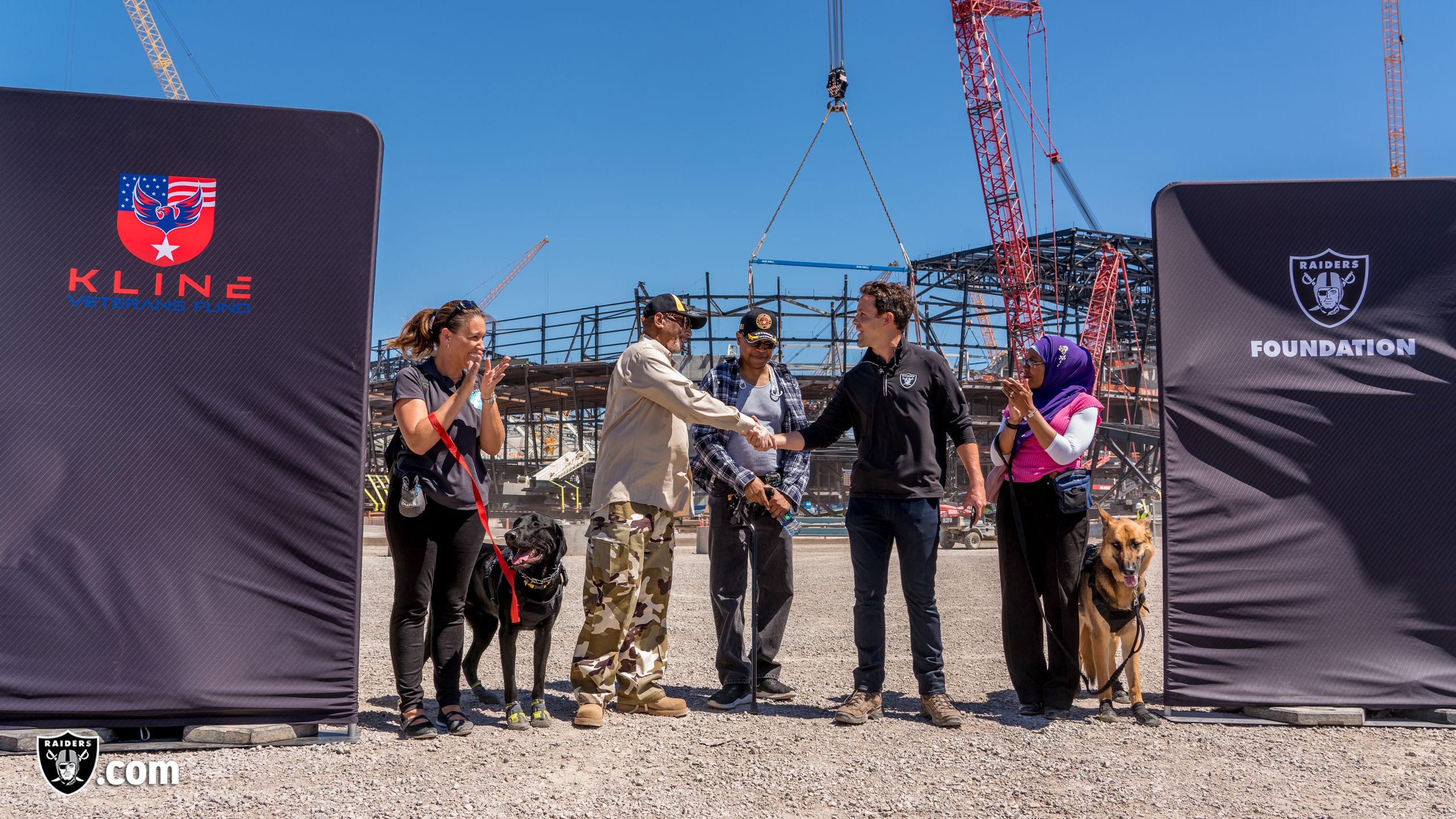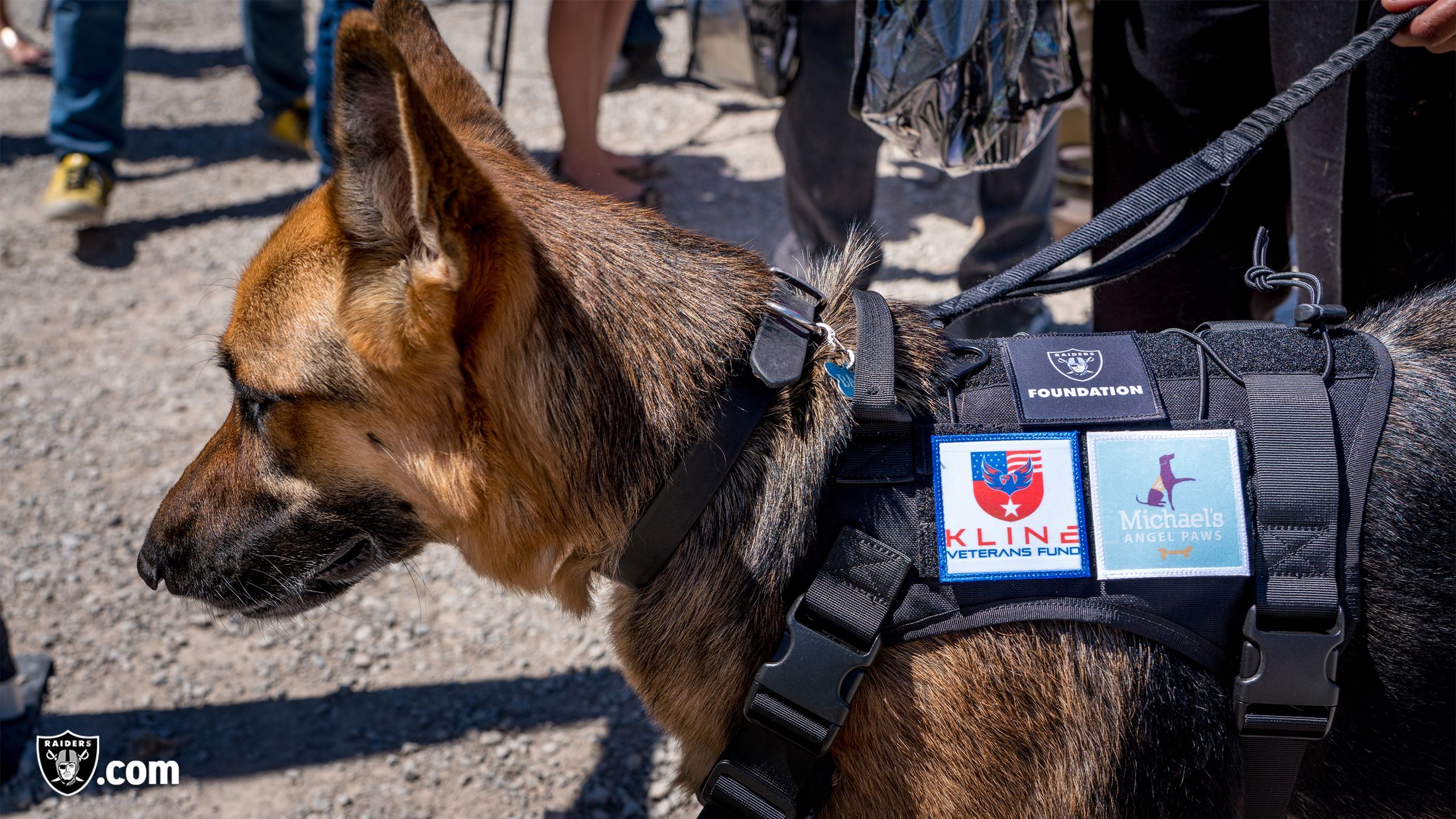 Inaugural Salute Golf Tournament benefiting Kline Veterans Fund:
Veterans Appreciation Day at Las Vegas Ballpark:
On Sunday, May 5th Kline Veterans Fund presented Veterans Appreciation Day at the new Las Vegas Ballpark. Veterans, active duty military, spouses and families were recognized throughout the day. Opening ceremonies included a presentation of colors by the UNLV ROTC Army Color Guard and a ceremonial first pitch thrown out by Kline Fund Executive Director Stephanie Helms.  Board members from Kline Fund and Caesars Salute group were on hand to greet attendees. Hundreds of Veterans were asked to stand and be honored during the seventh inning stretch during which, Paul Shortino, star of Raiding the Rock Vault at the Hard Rock Hotel & Casino, serenaded the crowd of 9,236 with God Bless America. Vicky Brabant, whose son is an active duty Marine stationed in Okinawa, Japan, was the lucky winner of the Aviators swag basket raffled off during the game. This event was presented in partnership with Caesars Salute and sponsored by America First Credit Union.